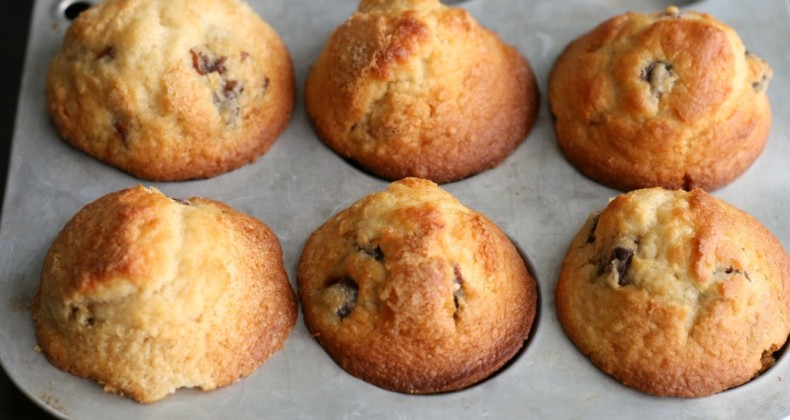 These dried cherry muffins were created because during the month of January I pledged to cook with what I had in my pantry. At times it was challenging but for the most part I breezed through the month without having to go grocery shopping. It is nice to occasionally do a grocery shopping freeze and use up what is on hand. It is amazing what gets shoved to the back of the pantry or freezer and quickly becomes long forgotten –like that box of clearance priced Halloween themed Funfetti cake mix. When I was assessing the contents of the pantry I came across an unopened bag of dried cherries. Naturally, I opened them up to have a little snack while I continued my assessment.
Oddly enough, cherries have been a pretty constant (and unsatisfied) craving this pregnancy, specifically my Grandma Elaine's cherry pie. I have never tried rehydrating dried fruit before and didn't really want to tackle a pie on my first try. I became fixated on the idea of rehydrating the cherries and using them in a baked good of some sort. Scones really stuck out. Quickly I became obsessed with the idea of cherry scones. I have made scones in the past and I knew I had shared them with you all so I quickly checked the archives for my scone recipes. Lo and behold I was stunned to see a chocolate cherry scone recipe I posted last May. They used dried cherries and were perfectly tart and sweet. So I changed directions and went with a cherry muffin using rehydrated dried cherries. I am glad I did. The cherries rehydrated perfectly and were delicious in these buttermilk muffins.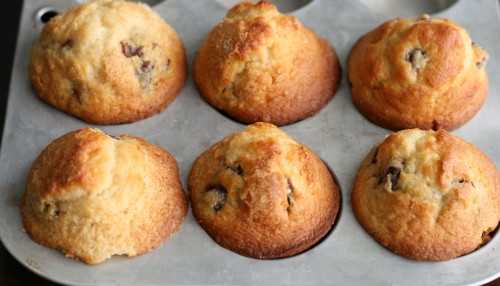 The method I used for making these muffins was the same I used when I made my Jumbo Bakery Style Banana Nut Muffins. This method I first discovered on Sally's Baking Addiction yields sky-high muffins like you would find in your favorite coffee shop or bakery. To rehydrate the dried cherries you can soak them in water in the fridge overnight or if you're in a pinch you can pour boiling hot water over them and let them sit for 15 minutes while they plump up. I had time on my side so I soaked them overnight in the fridge. Cherries not your thing try dried blueberries, or cranberries, or even raisins.
Cozy up with a large cup of coffee or tea and enjoy your cherry muffins. Top of the muffin to YOU!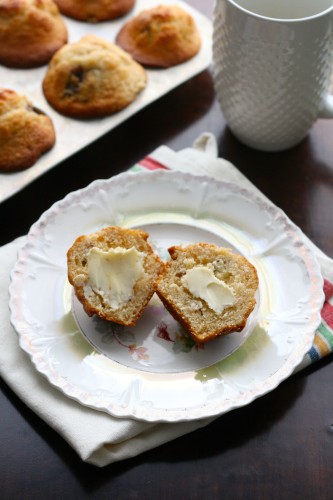 These items helped to make these Dried Cherry Muffins a bit easier: