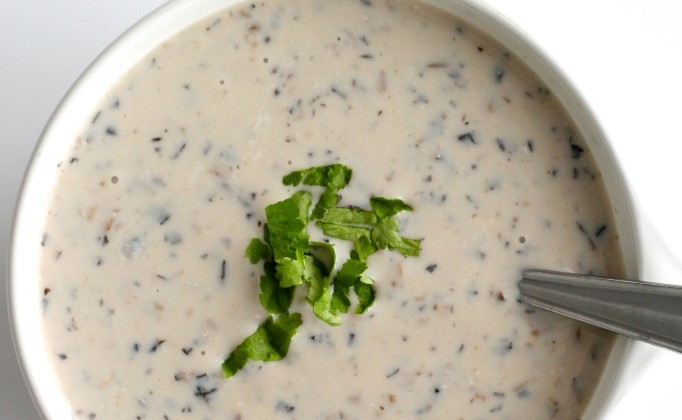 Recreating convenience foods from scratch is a fun hobby of mine. Silly, I know. Do you eat cream of mushroom soup as a soup or do you use it as an ingredient for casseroles and the like? It seems like cream of (whatever) soups are required ingredients in Midwestern hot-dishes and casseroles. But they are also good for eating on their own, especially, if you make it from scratch.
Before I developed a mushroom sensitivity (sad face) I LOVED eating cream of mushroom soup straight from the can. Weird I know. If I had the time to add the milk and actually turn it into soup I would crumble so many crackers into it that it became a weird cream of mushroom soup porridge. Yum. I ate this entirely too often in college. (Hello sodium overload!)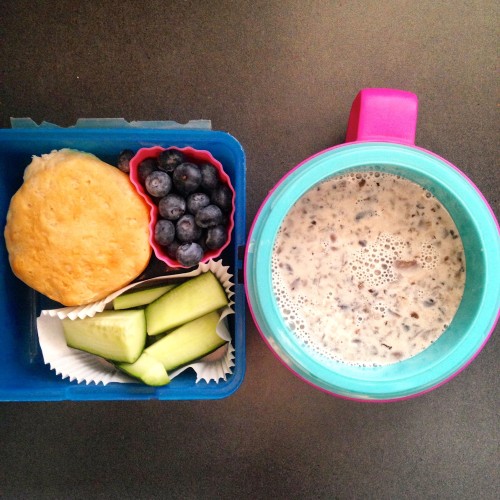 Penelope loved this soup and even requested to pack some for her school lunch the next day. She has a friend that is a vegetarian and she wanted to show him her vegetarian lunch. Not a bad looking lunch, huh?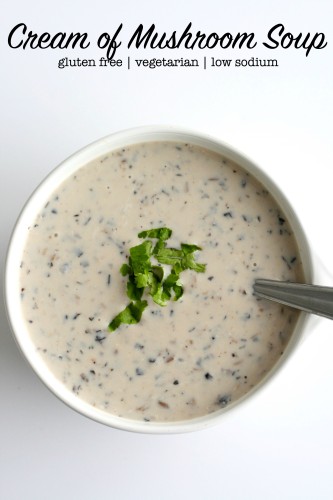 This soup is FULL of delicious mushroominess. I used one pound of earthy baby portobellos and kept it lighter by using some vegetable stock in place of some of the cream. It is thickened with cornstarch to give it that thick and creamy texture you are used to with this soup. Using cornstarch makes this a gluten free soup. Gluten free, vegetarian, and low in sodium. All things you can't get with the canned stuff. Homemade is better made! Enjoy!