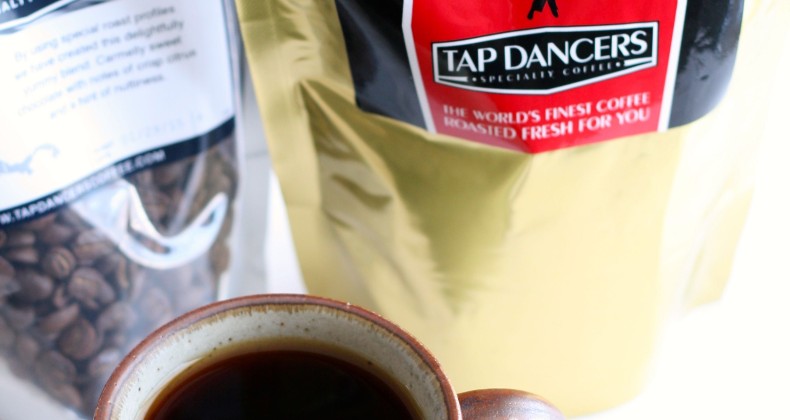 While I am no Linda Richman I hope you'll stay for a moment to chat coffee with me. Specifically Tap Dancer's Specialty Coffee here in Omaha. I was presented with an opportunity to review their coffee and help get the word out about their wonderful product.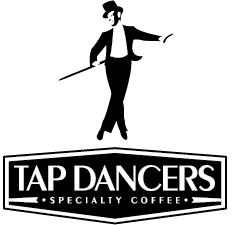 Do you love coffee? I love love love coffee. I am a very enthusiastic coffee drinker. The last 13 years of my life has been fueled by this delicious drink. In fact there has only been a handful of days in the last 13 years that I did not start my day with a steamy cup of coffee. My love of coffee has spilled over into my love of funky coffee cups. I picked up this adorable owl cup at an estate sale a few months ago.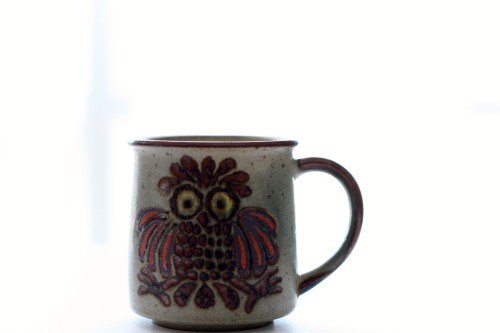 Those handful of coffeeless days I mentioned were due to the fact that I had run out of coffee. Oh the humanity! With Tap Dancers you don't have to worry about that because they will deliver the coffee to you. Yes you read that right.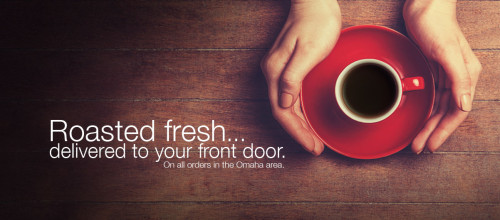 If you are in the Omaha metro area freshly roasted coffee beans will be delivered to your door on Fridays. TGIF, am I right?! You can get 6oz, 12 oz, or 5 pounds delivered to your home or office. You can chose a single order, bi-weekly, or weekly order too. Fun! Great news is Tap Dancers roasts their beans on Wednesday and Friday you receive the product. Talk about fresh!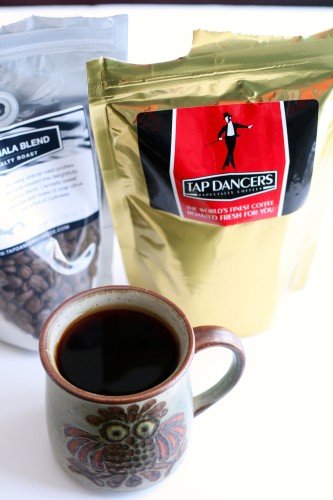 Last Friday I came home to a box sitting on my porch with eight bags of coffee. I was giddy. I quickly got out my coffee supplies and brewed up a cup. It has been so fun trying all the different types of coffee this week. I brewed using both a traditional drip coffee pot and my Aeropress. Aeropress style was my favorite but the regular coffee pot still yielded a great cup since the beans were so freshly roasted.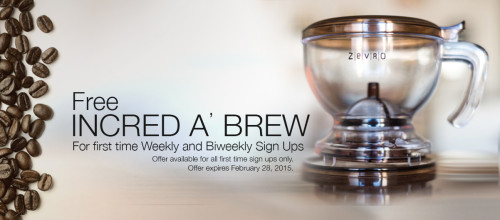 If you're worried about how you'll brew your coffee Tap Dancers is giving away a free Incred A' Brew with each first time weekly and biweekly sign up through the end of February 2015.
Here is a quick review of all the coffees I received.
Ethiopia Queen City (medium roast):
A very complex medium body coffee with notes of apricots and mangoes and exotic spices of cloves and cinnamon.
This one smelled fantastic. Probably my favorite smelling coffee. It was very smooth. While I didn't pick up the fruity notes I did taste the subtle spice at the end. More cloves for me than cinnamon. 
Kenya Kiambara (medium roast):
THIS IS THEIR STRONGEST COFFEE. Bright and tangy, sparkling citric grapefruit acidity, with a pronounced herbal character in a stout and vibrant cup, without a bitter aftertaste.
I would say tangy was a great way to describe it. 
Kenya Kiambara (dark roast):Â 
Earthy, smoky flavor that hits the sides of your tongue with hints of mocha. A very creamy, smooth and balanced coffee with a warm aftertaste. A true dessert coffee when milk and sugar are added and is perfect for making iced coffee.
This was one of my favorite brewed with the Aeropress. It came out strong and was so good poured over some frothed milk. I can't wait to try it iced (because iced coffee forever!)Â 
Guatemala Blend (specialty roast):
By using special roast profiles we have created this delightfully yummy blend. Carmelly sweet chocolate with notes of crisp citrus and a hint of nuttiness.
To be honest I was concerned with the nuttiness factor. Nuttiness makes me think of hazelnut and hazelnut coffee is about the worst (in my opinion). But it was hazelnutty at all. I thought it had a bit of a bite but not bitter.

Guatemala Beatriz (medium roast):
Medium body coffee starts with a crisp lemony tartness and is followed by a mellow peach undernotes. Finishes very refreshing.
This was the first cup that I really noticed the fruit flavors. The lemon flavor is certainly present but not obnoxious. 
Guatemala Andrina (dark roast):
Medium body with notes of milk chocolate. This delightful coffee has a touch of sweetness and finishes with a pleasant lingering after taste.
For some reason the word dark roast alway intimates me and this was the first variety I tried. I was so pleasantly surprised how smooth it was.
Honduras Raos Royal Decaf: Â 
This is a medium body coffee with lovely sweet cocoa notes finishes with a pleasant clean aftertaste. Certified fair trade and organic. Decaffeination done by Royal Select Water process. Which is recognized as the finest process available.
I enjoyed this cup of coffee on a snowy afternoon. I think it would pair so well with a creamy cheesecake. 
Espresso Blend:
We have been working with a top coffee consultant to help us create a truly great espresso blend. We found the right combination that blends the boldness of our Kenya Gathinja Medium with the sweetness of the Guatemala Beatriz and combined them with our rich chocolate Guatemala Adrina for complexity.
This was by far my favorite! I loved the blend of African coffee and South American coffee. It was so harmonious. I enjoyed this straight and with a little splash of cream. While bold it was incredible drinkable without any bitterness.
Click the links to read more about the coffee and the farms they were grown on.
All in all I enjoyed each variety. You know how sometimes you have coffee that can be really bitter, or incredibly acidic, or leave a weird after taste? None of these did that for me. Each cup was 100% enjoyable. I feel so lucky to have such great coffee, easily delivered, in my area.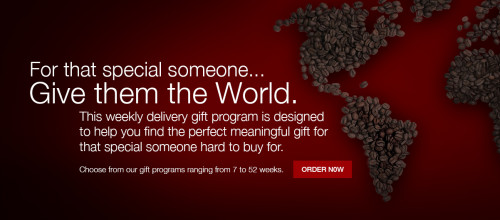 If you don't know what to get that special someone in your life for Valentine's Day, might I recommend having fresh coffee delivered to their door. I am sure they would love it!
Initially I was intending on only sampling six of the eight and giving away the other two bags to a lucky reader. But Alex and I really made our way through each bag and the temptation to try the other flavors was so strong. I succumbed to the siren song of coffee.
Don't fear though I would like you to experience a great cup of coffee too. I am giving away two – 6 ounce bags of coffee (your choice) to one lucky reader. You have until Wednesday, February 11 to enter.
You must live in Omaha to receive this coffee (since they only deliver in Omaha right now)
disclaimer: I was given free product to review but the opinions of the coffee are all my own. The giveaway is sponsored by me and Tap Dancers has no clue I am purchasing coffee for my readers. Â