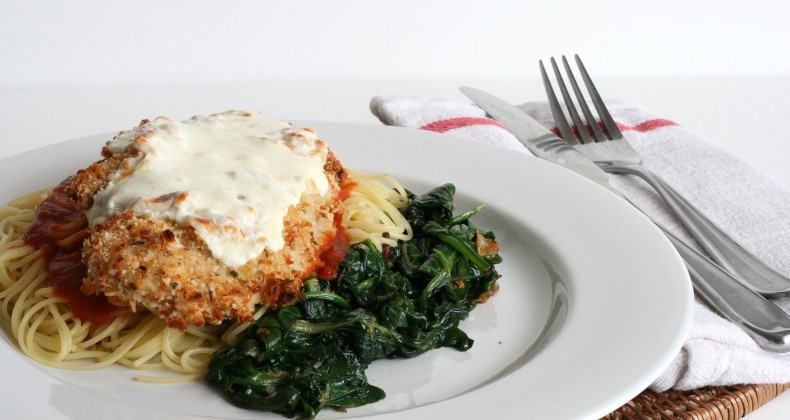 Chicky Chicky Parm Parm. Have you seen Parks & Recreation? It is an Emmy winning comedy show on NBC. It is such a breath of fresh air when all you usually see on TV is terrible reality shows. The cast on Parks & Rec is utterly hilarious. Here is a clip you just have to watch. I love each character individually that I can't pick a favorite.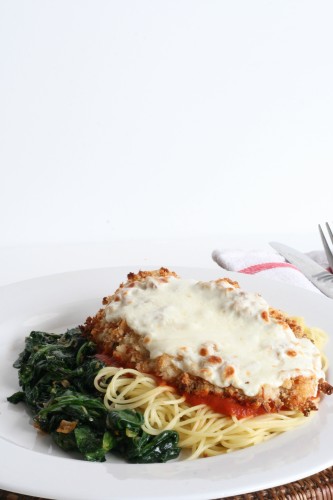 http://youtu.be/6OhJJR8nBl4
I hope you found that as delightfully funny as I did. Now on to the recipe….
Chicken Parmigiana aka Chicken Parm aka chicky chicky parm parm is a chicken breast or cutlet dipped in bread crumbs, fried, then topped with mozzarella that is baked until bubbly. While it sounds wonderful it isn't exactly wonderful for your waistline. So for dinner I decided to bake it instead of fry it to save a few calories. Awhile back I made Parmesan Chicken Bites and this is pretty much the same thing except with full size chicken breasts.
I don't know if your grocery stores are like mine but the chicken breasts they carry are enormous. Out of curiosity I weighed the two chicken breasts I use and one was 10 ounces and the other 12 ounces. Poor chickens. I cut the chicken breasts in half lengthwise to give me four 5-6 ounce chicken cutlets. Which was a generous serving size. Spinach sautéed with a little garlic rounded out my dinner. Now I can't claim this is better than restaurant chicken parmigiana because I have never ordered it at a restaurant before. I can say that it was quite scrumptious and hope you give it a try.