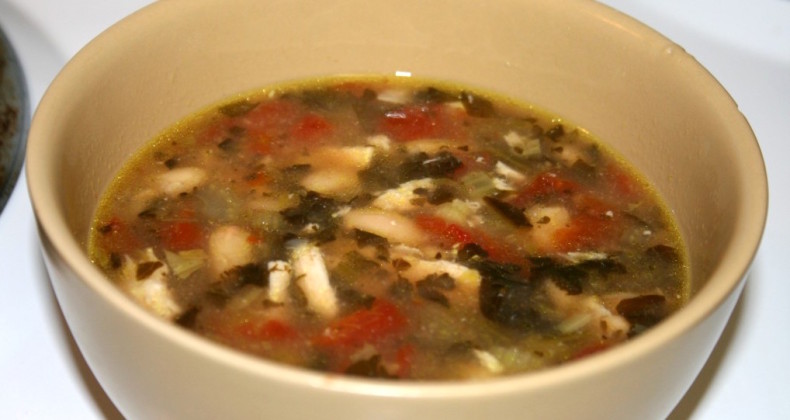 Chicken and White Bean Soup
Soup in the summer. You probably think I am crazy. I'm not. I promise. My husband and I have been searching and searching and searching for our first house. This endless house hunt has taken up many of our evenings. We usually return to our apartment around 8 p.m. (which is the girls' bedtime) hungry. The quick solution would be to drive through the Golden Arches, and fill up on a high calorie, low nutrition convenience meal. No thank you! One day it dawned on me that I should utilize my crock pot or slow cooker if you will.  I could easily throw some meat and veggies in there in the late afternoon, turn it on high, and magically it would be ready to go at 8:00 when we returned home hungry and with little motivation to cook.
As far as the crock pot goes I really don't have a very diverse crock pot cooking background. I have made pot roast, pulled pork, and hot turkey. My soup experience in the crock pot has been limited to chili, and that is it. As of late I have been using a crock pot that was older than me, I am pretty sure my parents received it as a wedding gift. Unfortunately the crock pot's electrical components fizzled out this spring, unlike my parent's love for each other; they will be celebrating their 27th anniversary this fall.
All cheesiness aside, the crock pot can be a very useful kitchen appliance. My husband bought me a new crock pot, however, I opted to get a simple one with the warm, low, and high options. Since I am a SAHM I felt the extra expense of a programmable one was a little silly for me. People have dedicated entire blogs to chronicle the adventures in slow cooking. Using the crock pot could be a way to make healthier meals for your family, meat and vegetables cook wonderfully without the need to add any oil. My husband and I are trying to cut back on refined flours, sugars, and highly processed foods. A meal cooked in the crock pot seemed like a perfect answer.
This soup came to be because it was what I had on hand. I had chicken stock, but you could easily make this vegan friendly by adding vegetable broth, and using more beans instead of chicken. Either way it sounds delicious to me. Serve with a salad and a crusty bread, and you will have yourself a delicious and nutritious meal.
What others from the blogosphere are doing with Chicken and White Beans:
Joe at My Cooking Quest is making White Bean and Chicken Chili
Kazari at Krissy's Cooking Blog is making Warm Chicken and White Bean Salad
Kevin at Closet Cooking is making White Bean and Kale Soup with Turkey Sausage