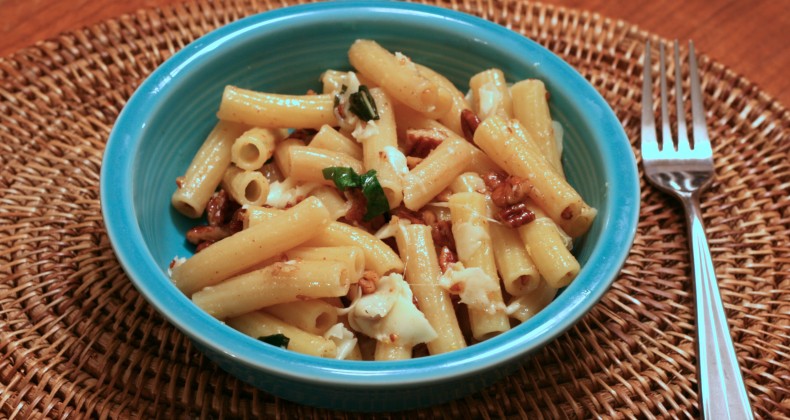 We have only been in 2013 for nine days, but boy what a busy nine days it has been! I hope this isn't any indication of what a 2013 will hold for me. I need a little bit slower paced year. It looks like things will wind down a bit after tomorrow –thank goodness! By the way –I am busy doing research for different types fundraisers for our PTA if you have any suggestions PLEASE leave them in the comments below! 
Many of you have obligations too, I know. Work, church, kiddos, extra curriculars, etc. sometimes you don't have the time or the energy to spend hunkering over the stove, or your child(ren)/spouse is hungry and hungry NOW. I understand. That was exactly my situation last night. Pasta is usually a quick easy dinner to cook up. From start to finish we are usually eating in less than 30 minutes if we decide to make pasta for dinner.
Recently a friend on Facebook posted a picture of her dinner, a comfort food her mother used to make her. It was pasta, browned butter, roasted walnuts, and Parmesan cheese. It sounded so good. So last night when my children were soooo hungry I decided to whip up my version of that comfort dish with things I had on hand. I used pecans and tossed in some basil and lemon zest too. I love browned butter and could see many other variations of this simple dinner.
AÂ little side story: As Sasha was eating this last night it was evident that she was enjoying it. "Mmmmmm. Mmmmm." She kept saying. Finally when she didn't have any food in her mouth she said, "why don't you work in a restaurant? This is soooo good. Daddy could take us there and we could eat the dinners you cook." This made me smile. What a great ego boosting compliment from my sweet six year old.
What is your favorite quick meal?