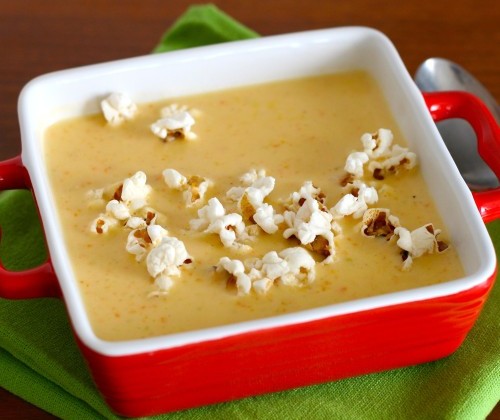 How was your weekend? I had a lovely low key weekend. We enjoyed a dinner consisting of appetizers with a small group of friends. Let me repeat: Dinner. Of. Appetizers. Seriously this is like my favorite thing ever. Do you ever have fun dinners with family or friends? The rest of the weekend we hunkered down and stayed cozy. We actually got our first snow that is here to stay this weekend. I'm excited because I actually really do enjoy the changes of the different seasons. Ask me in March and see how much I still love the snow though.
If you enjoy cheese and beer this is your lucky day because I have a winning recipe combining both ingredients. This rich and creamy beer cheese soup is perfect for the coldest and snowiest days Old Man Winter can throw at us this winter. I love it because I get to enjoy the light beer flavor since I won't be able to enjoy my next adult beverage until summer.
If you're a cheese snob you are just going to need to suck it up for this soup. Save your good cheese and serve it at your next dinner party of only appetizers. A combination of sharp cheddar and hunk of deli counter American cheese make for a rich, smooth, and creamy soup. The American cheese helps keep the cheddar creamy when melted. Ask that they cut off a four ounce hunk. You don't want the pre-sliced American cheese here.
The soup is topped Wisconsin style with popcorn. I thought my kiddos would get a kick out of popcorn in their soup. Alex and I enjoyed our soup with some soft pretzel rolls. Sister Schubert's Pretzel Rolls can be found in the freezer section at the store. They are out of this world, highly addictive, and incredibly convenient. Homemade pretzel rolls have moved to the top of my "must make" list. Do you have a list like this? What is on it?
I used the leftover soup to make beer cheese macaroni and cheese. It was pretty amazing.