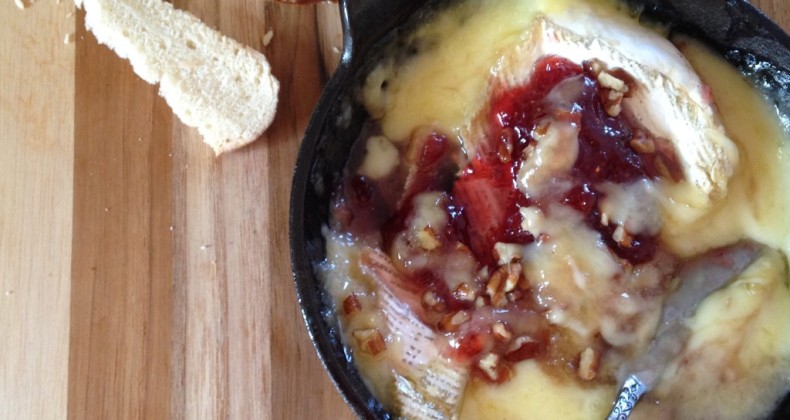 Baked Brie and Exciting News
Is your schedule filling up with family dinners and cocktail parties with friends? Soon we will all be getting in the holiday spirit and celebrating. Whether you are celebrating with friends, family, or coworkers this appetizer will be sure to impress! Have you had Brie before? It is a soft creamy French cheese. When serving Brie allow it to come to room temperature and the flavor really comes through. If you're like me and can't eat raw Brie (more on that later) baking it is a wonderful alternative.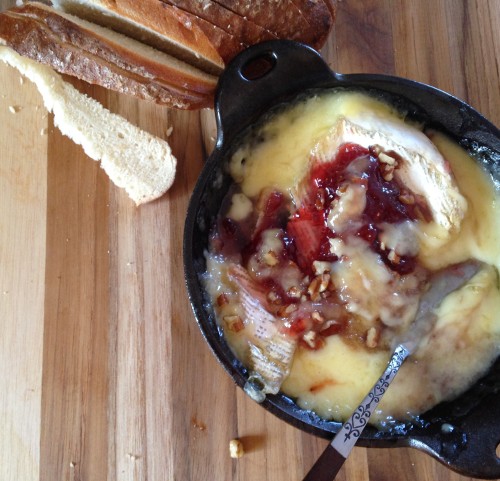 You can buy Brie in wedge form or as an entire wheel. Either one will work perfectly for this appetizer. I just happened to have a lovely wedge sitting in the fridge just begging to be eaten. If this is your first time eating Brie leave the white outside on it is completely edible. As you can see my Brie got really melty and creamy. It would hold together much better if it was in wheel form. If you are going for looks pick up a wheel. I was going for taste and wasn't too concerned about looks. All I wanted was to indulge in that creamy dreamy Brie.
You might be wondering why I can eat baked Brie and not able to eat raw Brie. Well they say raw Brie runs a risk for listeria which can be very dangerous for pregnant women. That's right I fall into the category of pregnant women.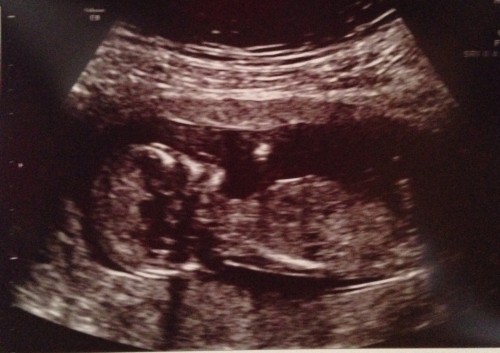 This little peanut will arrive May 2014. This tiny thing has been the cause of nausea and exhaustion which has left me unmotivated in the kitchen. I am finally on the up swing with my energy returning daily. I am so glad to return to a more regular posting schedule! But wait! There's more exciting news!
I've been working with Diabetic Living for the past few years developing recipes for their magazine and BHG Special Interest Publications. It has been a blast working with them. Every recipe assignment is a new challenge I have to face in the kitchen and I LOVE it. This weekend I opened the mail box to find a large envelope addressed to me. When I opened it I found the current issue staring back at me. The big surprise was those pretty looking chocolate meringues on the cover were my recipe!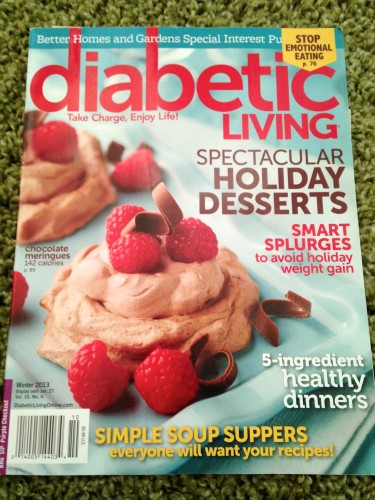 The next surprise was when I opened the magazine to look for my recipes I found a two page spread with the recipes and my name listed. How fun! I feel like a giddy child every time I see it.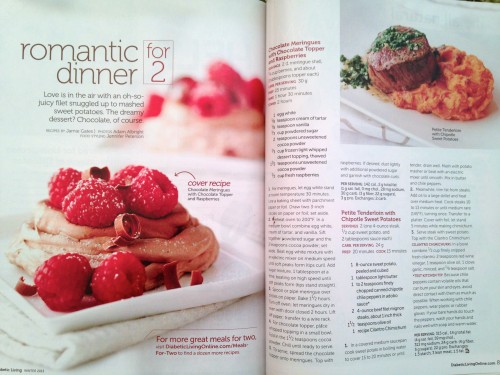 You can find this issue on magazine stands now. The chocolate meringues might be my favorite recipe I've developed. But the petite tenderloin with chipotle sweet potatoes and cilantro chimichurri sauce shouldn't be ignored either. The spicy sweet potatoes and garlicky chimichurri pair so well together. I think I might have actually licked my plate clean! This is food that everyone will enjoy, diabetics and non-diabetics alike.
Thank you for letting me share my exciting news with you! When you are rushing around from holiday party to holiday party this year make sure to bring this baked Brie with you. Your friends will sing your praises! They will never have to know that it took only about 15 minutes to make.