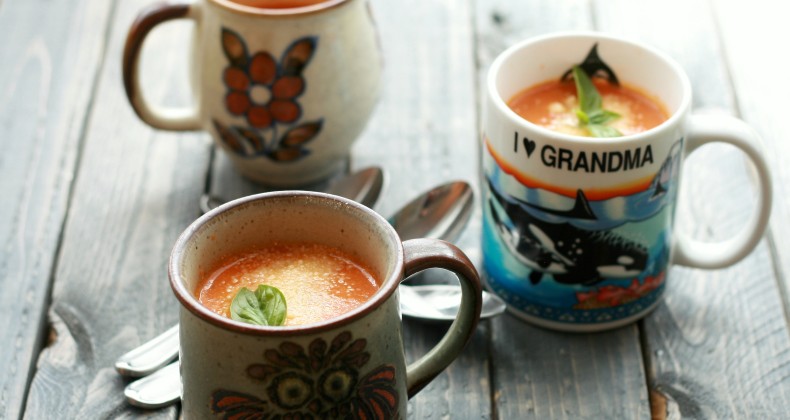 One of my absolute favorite things about recipe development is fulfilling requests. The request for tomato basil soup comes from my Grandma. I love it when family and friends ask me to make something. I have a couple more family request recipes that I am working on. Leave me a comment or shoot me an email any recipe requests you have.
Tomato season is winding down and this soup recipe will help you use up some of that stash. It may be officially Fall but tomato season isn't over until it freezes. Hustle outside and grab all those tomatoes before it is too late.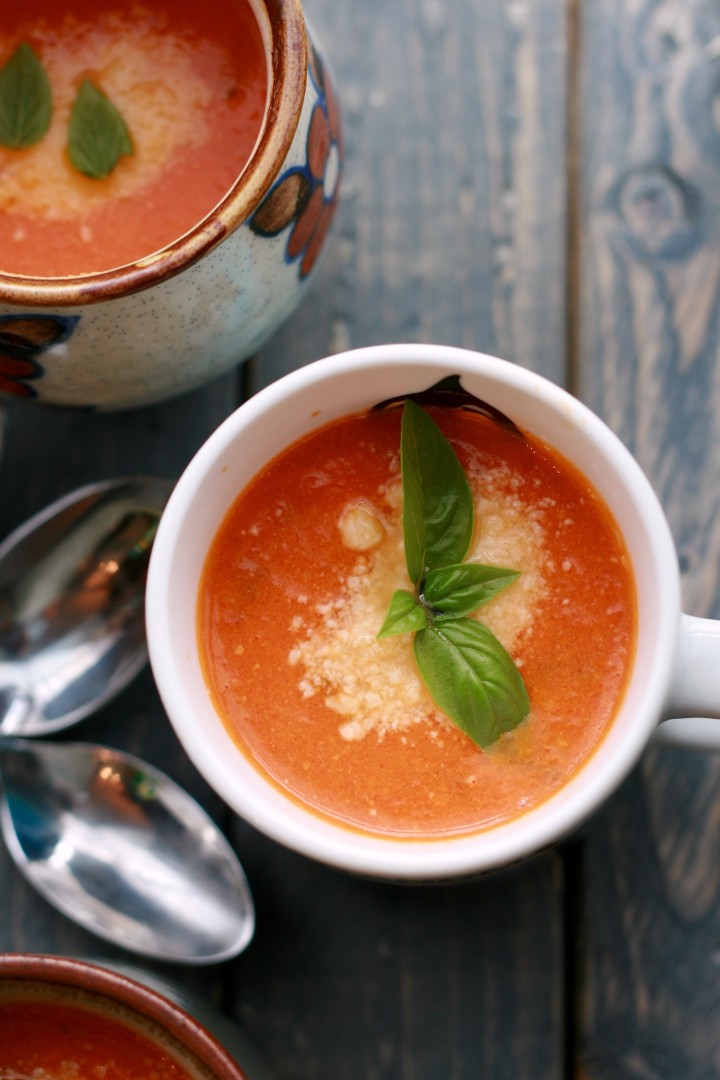 When it comes to tomato soup I love sipping it out of a cup. Wrapping my hands around the warm cup and sipping the creamy soup while sitting outside in the crisp Fall air brings together everything I love about the changing of the seasons. Add a toasty grilled cheese sandwich and I am in nostalgic heaven.
I slipped the tomato skins off just to ensure a more creamy soup. It isn't required but if you do want to do it I have an easy way to get it done. Cut a little X on the bottom end of the tomato. Pop several tomatoes in a pot of rapidly boiling water for 15 seconds. Scoop out the tomatoes and place in a large bowl of ice water.
The quick transition from hot to cold will help loosen the skins and you will be able to just slip them off. Using a pairing knife cut out the stem end and stick your finger in the tomato to scoop out the seeds. All of this only took me about 15 minutes. It is quick work, especially if you have your hot water, ice water, and cutting board set up.
As summer comes to an end my basil wants to go to seed over night. I was able to use up a good handful of basil in this soup before it was done. If you don't have fresh basil leaves a scoop or two of pesto would work wonderfully in it's place. Or you could use 4-6 cubes of frozen basil (you can find these in the freezer section at the store).
Cozy up with a bowl of this creamy tomato basil soup and enjoy the labors of all your hard work gardening this summer.