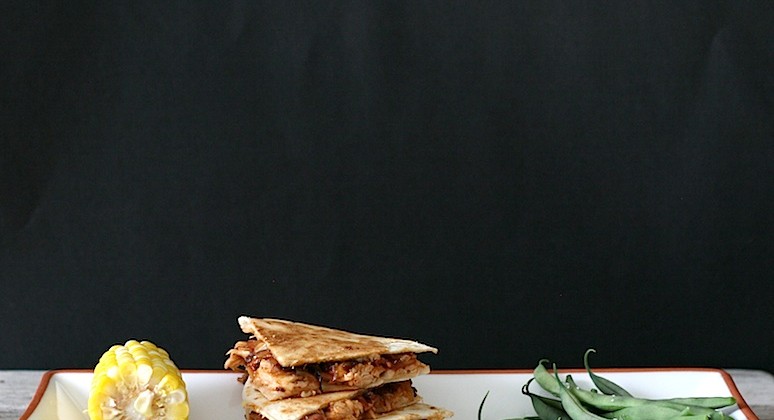 BBQ Chicken Bacon Quesadillas
Doesn't that just look like summer on a platter? I love fresh sweet corn. Sweet corn that I buy out of the back of a truck along side the road or at the farmers market. Sweet corn that I know was grown near my city. It has the BEST flavor. This is one reason why I love summer in the Midwest. There always seems to be an abundance of fresh and oh so sweet sweet corn. The only down side is that sweet corn season is so short.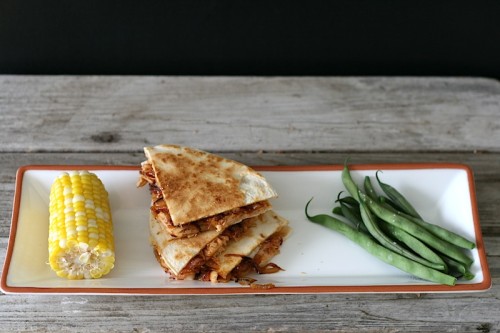 I planted sweet corn this Spring in hopes that I would be able to walk out the door and pick my own. I'm not sure if I am going to be able to pick any this year. We had such a weird Spring so I am going to blame my sweet corn failure on that. Instead of walking out my door I had to drive to the farmers market (bummer). The beans I did grow myself. They went from garden to boiling pot of water to my belly in just a matter of minutes. Utter perfection!
These chicken bacon quesadillas are so gouda! See what I did there? I packed them will grilled chicken tossed in Sweet Baby Ray's barbecue sauce (a total fav), crispy bacon, caramelized onions, and you guessed it gouda cheese. Mmm. Mmm. Mmmm!  A great substitute for the grilled chicken would be Rotisserie chicken. Pick one up on your way home from work (and skip the caramelized onions) and you could be eating in a matter of minutes.