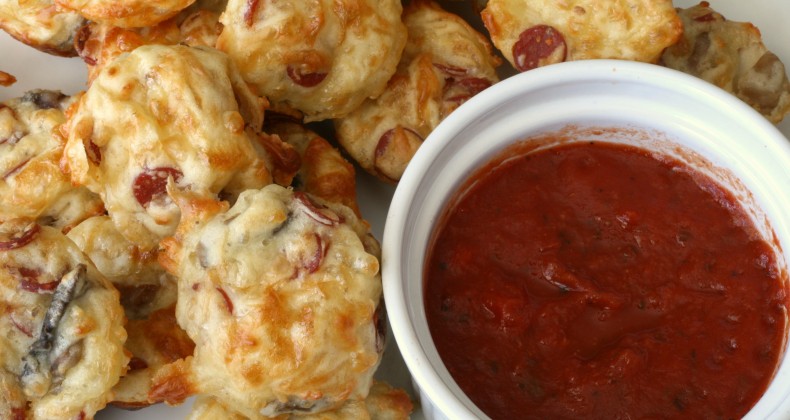 This Sunday is a special one for football fans. Hopefully your favorite team has made it to the big game. Will you be rooting for the Ravens or the 49ers? I will be rooting for the food and the commercials. Let's be real here we all know that the football game is one of the least important parts about Super Bowl Sunday. I can think of three other things that people are talking about and will be talking about more than the football teams.
1) What will we be eating/serving?
2) Who will have the best commercial?
3) Beyonce. Will she lip sync the half time show?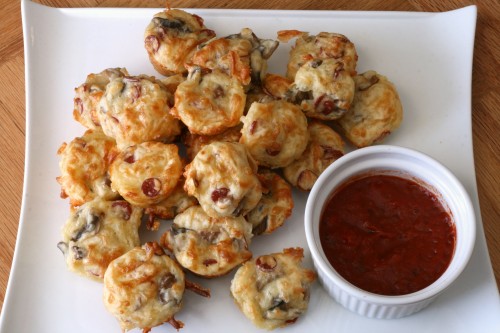 This pizza bites recipe is easy to make in small batches or for a crowd. Customize them according to your guests favorite pizza toppings. I made good ole pepperoni and mushroom. But I think pepperoni and black olive would be awesome. Tomato and basil, sausage and peppers, caramelized onions and bacon, really your options are endless. They take less than 45 minutes to make. Five minutes (or less) to mix up, 10 minutes to rest, 20 minutes to bake, five minutes to cool. Start mixing up your second batch while your first batch is baking.
Obviously I think these would make the perfect Super Bowl appetizer, but it would also make a wonderful after school snack for your growing teenagers. Better than those mouth scorching pizza rolls! 🙂
What are your favorite Super Bowl appetizers?
I like anything labeled as buffalo chicken and I love a good bean dip!