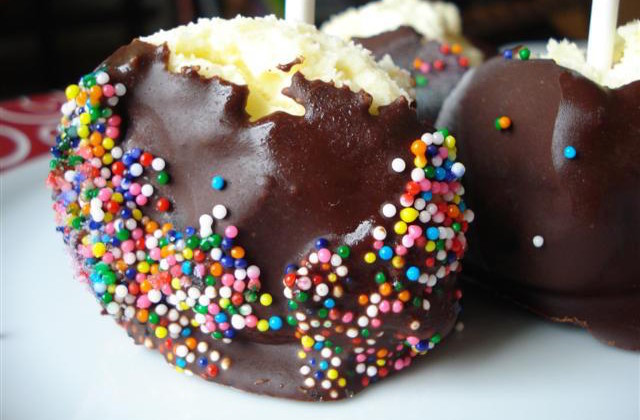 My First Daring Baker's Challenge
I've joined Daring Bakers! At the end of each month I watch my Google Reader with much anticipation waiting to see what that month's challenge was and the beautiful photos that accompany the delicious recipes. Each month I tell myself, "well I could have baked that".
Baking isn't my strong point, I don't have a ton of baking experience. To me baking does not provide the freedom that cooking does. Baking is a science, and measurements need to be accurate. The precision involved intrigues me. I decided to spread my wings and give it a try. I contacted the creators of Daring Bakers and asked to be involved with the challenges. I got my request in just the nick of time, and before I know it I was emailed with all the details, including the theme of April's challenge.
April's theme is Cheesecake Pops. Elle of Feeding My Enthusiasms and Deborah from Taste and Tell hosted this month's event. This recipe is an adaptation of one from Jill O'Connor's book called "Sticky, Chewy, Messy, Gooey."
I have made only one cheesecake before, it was a recipe from Cooking Pleasures magazine. It turned out wonderfully, so I was really excited to tryout these Cheesecake Pops. I baked my pops at the beginning of the month and experienced some of the same problems as other bakers. The recipe says the cake will bake up in 35-40 minutes, I like most of the bakers had to increase the baking time to 60 minutes. Just keep your eye on it! These pops were so creamy and delicious! I divided my batter into two separate pans, one I flavored with orange extract. I look forward to using this recipe again, and experimenting to make it lower in calories.
I really enjoyed this month's theme. My family loved these pops, they are a fun treat for Sasha to enjoy. If you want to see more photos of the pops, check out the Daring Baker's blogroll. I look forward to next month's theme, check back at the end of May to see what else I've dared to bake.