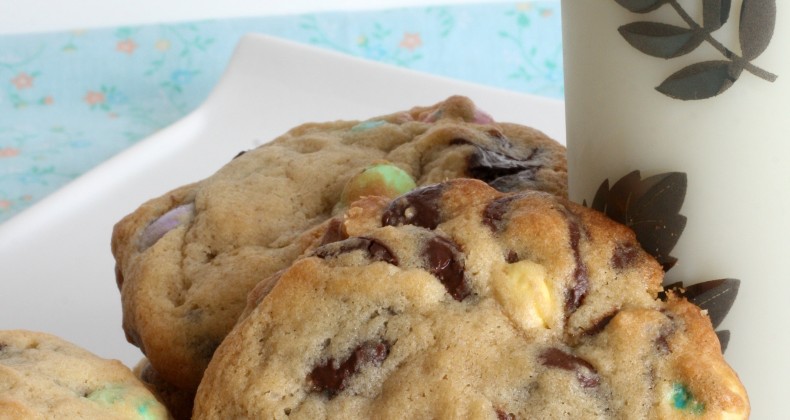 M&M Chocolate Chip Cookies
If I had to pick one recipe that my future grandkids would beg me to make it would be these cookies. Everyone needs a family favorite and these are it. Chocolate chip cookies recipes are as unique as the person baking them. These are a perfect combination of crispy, soft, and chewy. My husband *loves* them. The school principal *loves* them too. I have baked up several batches for my husband's business meetings and several more batches for the school bake sale, PTA meetings, and parent/teacher conferences. These are my go to CCC. Well not this recipe exactly. This recipe I made even better than my go to by adding M&M's. M&M's make everything better, amirite?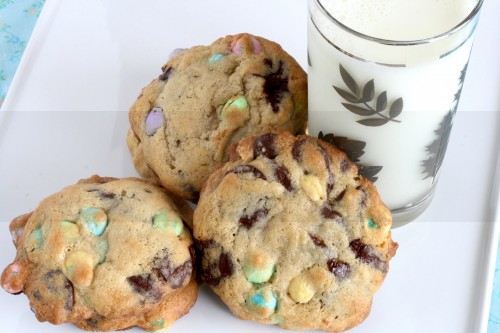 In the past I used to add a box of vanilla pudding to my cookie recipe. It made them soft and chewy. Awhile back I saw the blogs all a buzz about adding cornstarch to the cookie dough. Brilliant! I couldn't believe I didn't think of it myself. There is cornstarch in instant pudding mix. By adding only cornstarch to my dough I could skip all the other stuff that is in instant boxed pudding mixes and have all the benefits. I decided I would give it a go. I picked up some Easter M&M's with the intention of making monster cookies but they were destined to jazz up my favorite chocolate chip cookies.
Bake some up to share with your coworkers this week, or to enjoy while watching basketball (I heard there was some sort of tournament), or bring a batch or two to your Easter celebration.