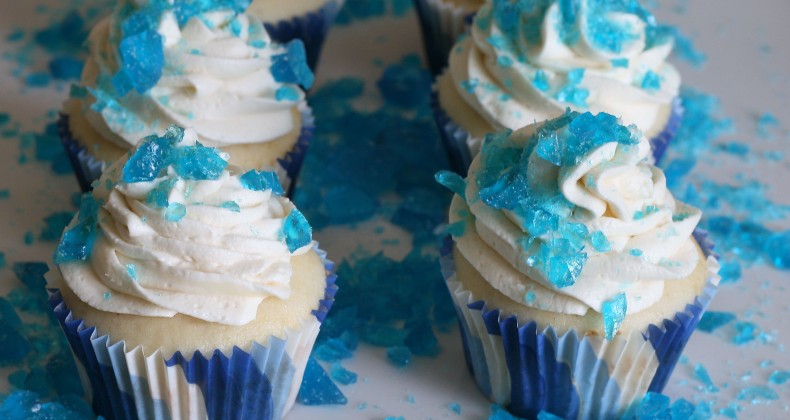 Mr. White's Blue Crystal Cupcakes
Breaking Bad. Do you watch it? The season finale is this Sunday and I can't wait to see how it ends. AMC is currently running a Breaking Bad marathon so you can binge watch it and get all caught up. Seasons 1-4 are also available on Netflix.
If you have no clue what I am talking about let me quickly catch you up. Bryan Cranston (famously played Malcom's dad on Malcom in the Middle) plays chemistry teacher Walter White, after finding out he has inoperable lung cancer he turns to manufacturing meth (and many other crimes) with former student Jesse Pinkman. The two are able to manufacture the purest meth on the market and it has a nice trademark blue color to it. As you would guess, this lifestyle causes things to quickly spiral out of control. This Sunday night it all comes to an end. I honestly have no clue how they are going to close the series. I'm excited to find out!
These cupcakes would make the perfect snack for a Breaking Bad finale party. I even included the trademark blue crystal (candy) meth.
You will need a candy thermometer to make the crystal. I left my candy unflavored but feel free to add whatever clear colored flavorings to your candy to personalize it. The candy recipe is the same one I use when I make anise candy around Christmas. I just left out the red coloring and the anise flavoring. If you're short on time use a boxed white cake mix and bake according to package instructions.