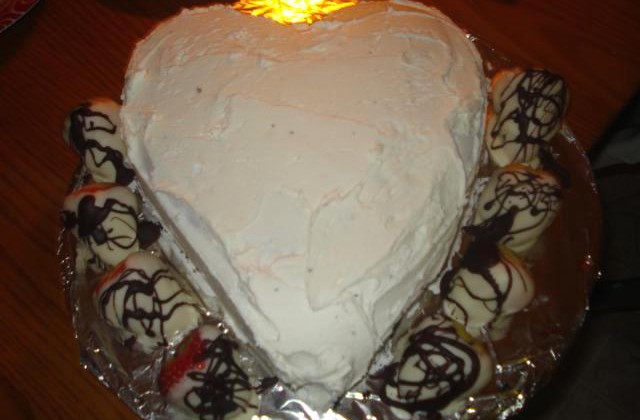 I love you with all my heart cake!
Lately it seems like I have the best intentions of writing, I just never follow through with them. Ugh! My goal is to post something more often. I have so many recipes and photos of different food that I haven't posted yet. This weekend I was really ambitious, I made homemade doughnuts, that is going to be another post, however.
I made this heart cake for Alex on Valentine's Day. It was delicious! Target had heart shaped silicone pans on sale for $2.50 after Christmas, so I picked one up and stashed it away until Valentine's day. I have to apologize, I was going to make a cake from scratch. I was determined to make a beautiful made from scratch heart shaped cake, I even bought cake flour at the store. But… that didn't happen. I was so busy on Valentine's day, running around trying to make sure everything was just perfect, that I resorted to the fail-safe boxed cake mix. I did take the time to make my own buttercream frosting!
I baked the cake according to package directions. It was my first time cooking with a silicone pan so I was a little unsure of how long it would take to bake. Heads up –it took 45 minutes at 350 degrees F. Once the cake came out of the oven I let it cool in the pan for 10 minutes before transferring it to a wire cooling rack. Allow the cake to cool completely before working with it. Once the cake was completely cooled, I sliced it in half. I then took a generous amount of buttercream frosting and spread it on top of the bottom layer, replaced the lid and completely covered the cake with the remaining frosting. I garnished the cake with chocolate covered strawberries. It was a beautiful and tasty dessert.
I got the buttercream frosting recipe from Wilton.