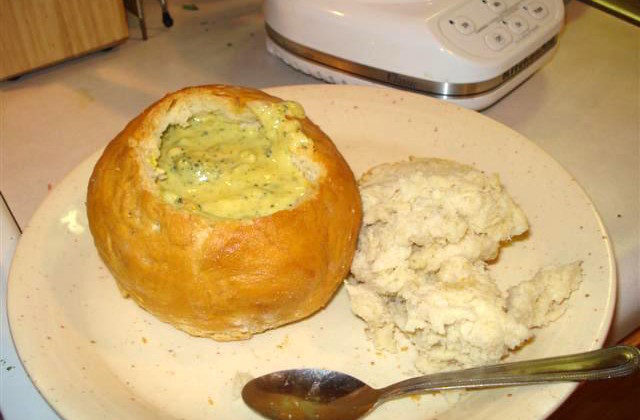 Homemade Sourdough Bread Bowls and Broccoli Cheese Soup
After our brief heatwave (45 degrees Fahrenheit) we had below zero wind chills. On Tuesday, we had blizzard-like conditions. The snow was falling and the wind was blowing the snow everywhere. It was perfect day for a warm comforting dinner. I read about Nicole's sourdough starter at PinchMySalt I have never made homemade bread before and was up to the challenge. I needed to start my own sourdough starter, thus making this bread bowl adventure an all day thing. The time and effort I put into this meal was well worth it. My first attempt was a success! My favorite thing to order from Panera Bread is their broccoli cheddar soup in a bread bowl. I do not need Panera anymore, because I can make my own, which is just as tasty!
I found a recipe for sourdough bread starter at the Food Network's website, I chose Emeril's recipe to follow. For my broccoli cheese soup, I adapted a recipe from my great grandma Nona. My grandma worked with my great grandma to type all of her recipes into a cookbook, which we received for a Christmas present in 1997. I have referenced it countless times when I need some inspiration for dinner. I am looking forward to getting a cookbook of my great grandma Dorothy's recipes… hint, hint.