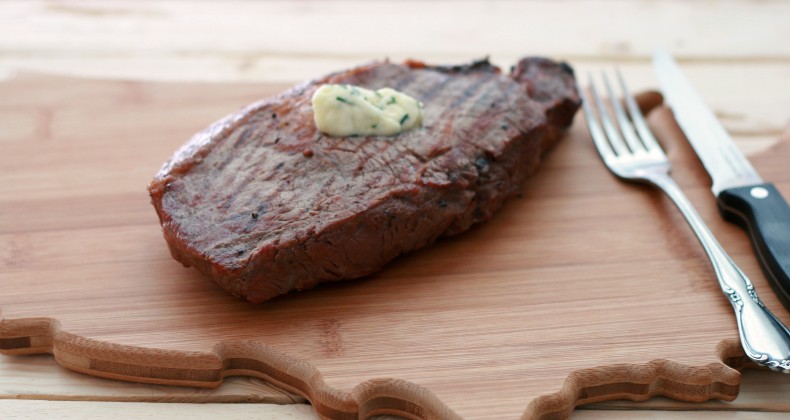 Grilled Ribeye Steaks with Compound Butter
Growing up in the Midwest steak is KING. I live in the Beef State and Omaha is known for steaks. Ever hear of Omaha Steaks? It has been a major goal to grill the perfect steak. After years of trying I think I finally have nailed it down and am ready to share my method with you. So grab a cold one and let's get grilling!
A couple things to keep in mind:
1) A thicker steak will be easier to get to proper "doneness" (at least for me)
2) Use lots and lots of super hot coals
3) Direct and indirect heat are your friends
4) Salt and pepper are you only seasonings
Serving with a dollop of compound butter makes the steak shine. I used to season with garlic salt but not anymore. I love the garlicky flavor with the steak so using garlic in my compound butter was a no brainer.
Don't skip the compound butter! It is easy to make and can be filled with your favorite seasonings and herbs. I'm thinking chipotle pepper compound butter would be wonderful with flank steak sliced ultra thin and served in tortillas.
Experiment folks!
My secret to perfect steaks is salting and bringing to room temperature for about 30 minutes before grilling. Grilling over indirect heat first and finishing with a quick sear over the raging hot coals.
My work flow looked something like this:
1) Make the compound butter and refrigerate
2) Take the steaks out, pat dry, salt, and let sit
3) Start the grill -I used charcoal so it takes awhile before the coals are ready
4) Use LOTS of charcoal -fill up that chimney
5) Once coals are hot and gray pour out on half of the grill, place grill grate down, close lid and allow the grate to get hot
6) Season both sides of the steak with fresh cracked black pepper
7) Grill steaks over indirect heat
8) Finish for a quick sear over direct heat
9) Remove from grill and let sit for 5 minutes before cutting to let the juices redistribute
All in all these steaks cook up quickly. You can proudly serve them to your dinner guests. Mr. Warren Buffet loves his Omaha steak and I would confidently serve him these steaks if he were to visit me. 😉 You hear that Warren?
Go forth, grill steaks, and enjoy your summer. Cheers friends!
If you are really wanting the full steakhouse vibe then you MUST serve these Steakhouse Baked Potatoes.