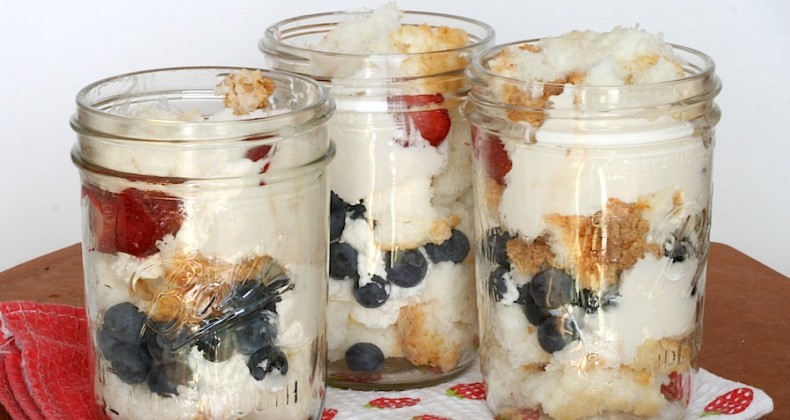 4th of July Trifle Dessert
Happy Friday! Wow what a week. Monday morning we had a pretty severe thunderstorm roll through leaving 50k+ people without power. Unfortunately yours truly was one of the people without power. I didn't worry since usually our power is restored within a few hours. This time we weren't so lucky. It took just over 30 hours for our power to turn back on. By that time the food in my fridge was just slightly cooler than room temperature. We tossed almost everything in our fridge. Total bummer!
I took some time away from the computer this week, which was nice. I've been busy doing some freelance recipe development. How I wish I could share these recipes with you now, they are so tasty!
This weekend is going to fun and busy. Tomorrow I turn the big 3-0! We are going to have a little barbecue to celebrate. Then we are going to pack up the mini van and head West. I can't wait for this vacation. We are going to divide our time camping and staying in hotels. Our first exciting stop will be to camp at Lake McCanoughy in Northwest Nebraska. Then heading over to Cheyenne then south through Colorado. Looking to stop in Fort Collins, Estes Park, Boulder, Denver, Colorado Springs. If you're from the area or familiar with the area and you have suggestions for places to stop or things to do with young kiddos, please shout them out!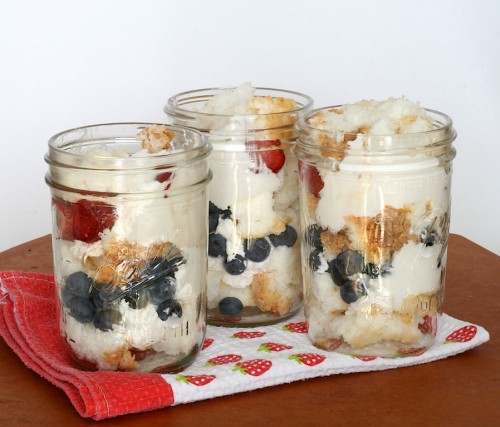 My recipe today is for an easy layered angel food cake trifle with strawberries and blueberries. The perfect red + white +blue dessert for your 4th of July party. Make it easy by purchasing a premade angel food cake or whipping one up from a boxed cake mix. I bought my strawberries from the farmers market last weekend. They are tiny and oh so sweet.
I hope you have a fabulous weekend! xo