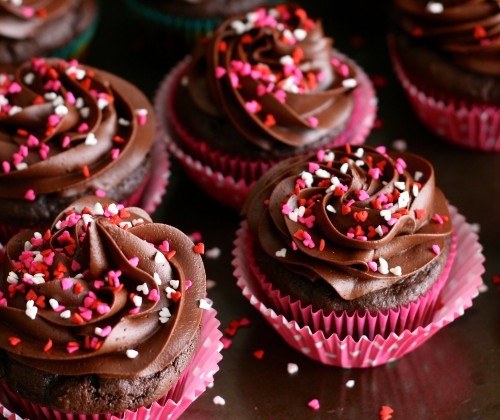 Death by Chocolate (Cupcakes)
Friday marks the celebration of Valentine's day. While I look at this holiday as a fairly "Hallmark" holiday it didn't start off that way. A quick Google search about the roots of Valentine's day turned up an interesting History Channel article about the holiday. So whether you are celebrating the feast day of St. Valentine, Lupercalia (a pagan fertility festival), or a day or love and romance these cupcakes will make the perfect treat for either celebration.
Chocolate is practically synonymous with Valentine's Day these days. Instead of getting your loved one a box of (mystery) chocolates take the time to bake them some cupcakes. In fact grab your special Valentine and head to the kitchen to whip these up together. Cooking together is sexy, am I right?!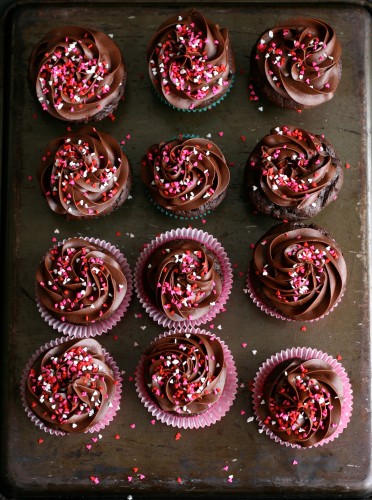 If you follow me on my Facebook page you may have noticed I posted a beautiful picture of cupcakes a few weeks back. These are those cupcakes –but better. The first time I tested this recipe I had my cake flour/all-purpose flour proportions off and the crumb of the cake was too soft. The batter tasted great, they smelled chocolatey and delicious while baking, they looked wonderful all dress up with frosting. However, as soon as that cupcake liner came off they crumbled to pieces. Delicious dark chocolate cupcakes pieces, but still, they were crumbly and hard to eat without a spoon. Not exactly sexy. I forced fed the crumbs to my family (ok not really, they happily devoured these crumbly cupcakes)Â and started on another batch one that would hold together.
If you are looking for supremely chocolatey, soft but not too crumbly, cupcakes with a dark fudgy chocolate frosting these take the cake!  I used Sally's Death by Chocolate Cupcakes recipe. I changed the proportions of flour she used and used Ghirardelli 70% extra bittersweet baking chocolate. This gal knows cupcakes, after-all, her site is called Sally's Baking Addiction and she has a cookbook coming out soon(!) that I am drooling over. The cake batter is thick, almost like chocolate pudding, which makes it easy to spoon into the cupcake liners. If chocolate is your jam you won't be disappointed I promise!