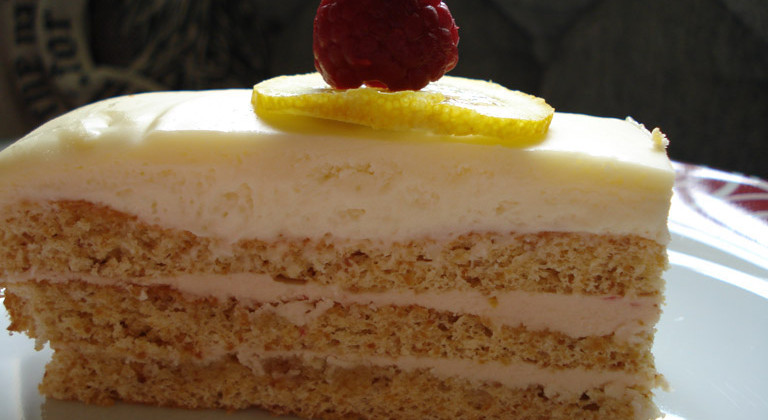 Raspberry Lemon Opera Cake
This month's Daring Bakers Challenge is Opera Cake. May's challenge is hosted by Daring Bakers founders Lis and Ivonne, and two newer members Fran and Shea. Before this challenge I've never heard of opera cake. Opera cake is a fancy shmancy French dessert, consisting of five different component –leave it to the French to make a complicated dessert. There is a cake (joconde) layer, syrup (to wet/flavor the cake), buttercream, mousse/ganache, and finally a glaze. Traditionally this cake is made with dark chocolate and coffee flavors, but our creative hosts wanted us to make our cakes light in flavor and light in color.
I will be honest with you, I was overwhelmed from the minute I read the recipe, so many different parts to concentrate on. Coffee and dark chocolate combination sounded so delicious, but we were once again forbidden to use dark flavors. Raspberry and lemon were the first to flavors that stuck in my head, it seemed to be a popular choice. My husband called home while I was preparing this cake and asked if I was a daring baker, I replied "No I am a challenged baker!" So true –at least with this challenge.
This cake was delicious, but extremely sweet. I've never thought anything was too sweet but this cake is. I ate only a tiny bite and that was enough. Now what am I going to do with all this cake? This was a fun experience, but I don't think this will make another appearance in our house. Check out all the other flavors my fellow bakers created at the Daring Bakers Blogroll.