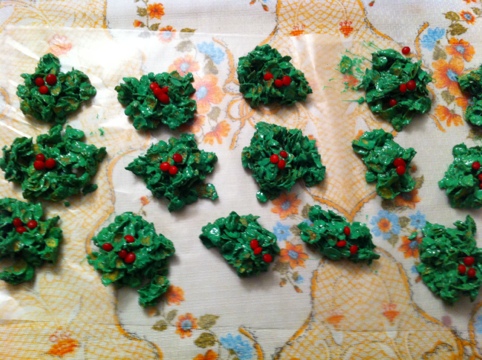 We made the first of our Christmas treats tonight. We did almond bark dipped pretzel rods and moldy cornflakes (a childhood favorite made by my Grandma Bonnie).
Now I'm not sure where the name moldy cornflakes came from but that is all I've ever heard them called*. They actually resemble holly and berries and are similar to rice crispy bars, except here we're using cornflakes.
*update: Grandma Bonnie left this comment on my facebook wall about moldy cornflakes. I thought maybe you would enjoy reading it too.
"I guess I should tell the true story of moldy cornflakes. Found the recipe for Holly Candy, made them, and at first, MY children (this would be my Mom and my Uncle) refused to eat them because they were green like mold. Our rule was you had to try everything once. After they tried them they loved them and have forever after called them moldy cornflakes. Then the grandchildren and great grandchildren have continued the tradition. Way to go, Michelle and Jeff!!"