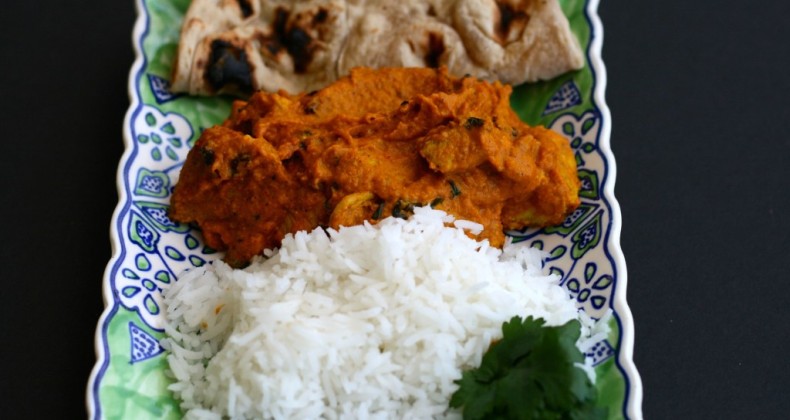 Obsessed! I have eaten this three times in the last three weeks. If I were one of those super organized meal planner types this would be on the rotation. Alex told me he could eat it once a week (and we have).
You are going to need a little time to make this. It cooks for about an hour BUT you don't have to stand at the stove babysitting it.
Never made Indian food before? This is a good starter dish. Everything besides the garam masala (which you can make with supermarket spices) can be found at any grocery store. Easy!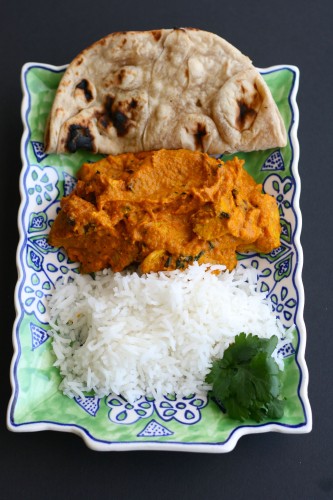 What is chicken tikka masala? It is little bits of chicken that have been marinated in yogurt and spices then roasted and served in a spicy and creamy tomato gravy over basmati rice. So good! Your home will smell wonderful as this simmers away. I added some lightly fried paneer (non-melting Indian cheese) to my batch but you could leave it out.
I love supporting local ethnic grocery stores. There is always something new to me that I discover in these little shops. I bought everything besides the chicken at Namaste Plaza in Omaha. If you're local or in the Omaha area check them out!
You can easily adjust the spiciness by adding less cayenne. The first time I made it I added closer to 1 teaspoon and I thought it was great, however, the kiddos did complain about it being "too spicy". The next time I made it I added about 1/2 teaspoon and it was a tiny bit spicy but not too much for the kiddos. Add more or less according to your preferences.