I love Chinese food, and while we live quite close to a handful of Chinese restaurants (Yelp shows 25+ in a five mile radius from my house)Â sometimes it is more fun to make your own Chinese food at home. This week's 52 week cooking challenge theme was Chinese food and I made a full Chinese dinner.
I am a sucker for egg rolls, you can buy those thick doughy egg roll wrappers at your local supermarket, usually found in the produce section, to wrap your own at home. I'm not knocking them because I've used them tons of times to make some delicious egg rolls. BUT if you want to make the real deal egg rolls (or spring rolls) you need to use a thin wrapper. These are found in the freezer section of your local Asian Market.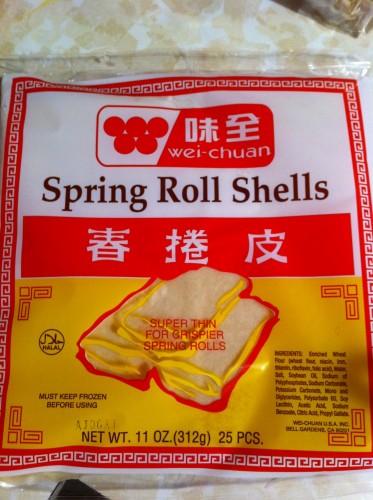 If you live in, around, or near Omaha you MUST go check out Asian Market (on N 76 ST between Dodge and Cass). Most of the ethnic groceries stores in town are small and crammed with lots of food with labels you can't read. Well Asian Market is your small ethnic grocery store on STEROIDS. It is HUGE! Here is a link to Omaha World Herald article written about the store.
We visited the store on Sunday and boy were they busy. It was slightly overwhelming and over stimulating. There was so much stuff I've never seen. Such brightly colored labels and words I couldn't read. I honestly didn't know where to look. I'm excited to go back and give it another look-see. They have a full service meat counter, a giant lobster tank, a nice size produce section with fruits and vegetables you don't typically find at regular grocery stores, and the longest wall of noodles I have ever seen. Who know there were so many different types of noodles? I didn't check prices, but if you're looking to buy rice in bulk you have many options at this store.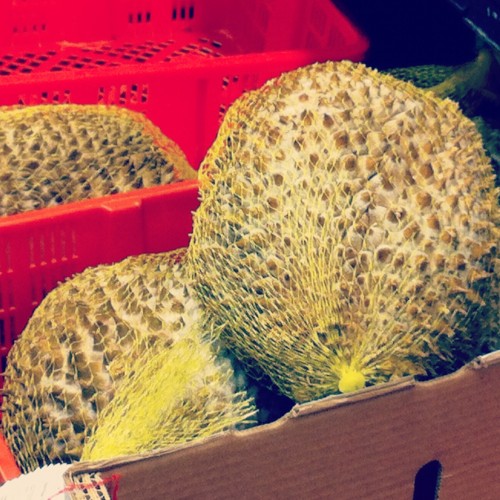 I couldn't believe my eyes when I saw this spiny fruit in the produce section. I thought I would have to leave the country or at least Nebraska to see this spiny monster. Do you know what it is? It is a durian fruit. It is just about the only thing that I've seen Andrew Zimmerman (from Bizarre Foods) get squeamish about. I'm actually very curious how it tastes. Any Omaha people want to try a durian?
The recipe I basically used for the egg rolls was from Steamy Kitchen (a former Nebraska girl!) These are her mother's FAMOUS egg rolls. With a name like that how can you pass them up? I used thinly sliced chicken in my egg rolls and halved the recipe, I didn't need 50 egg rolls laying around. Don't be intimidated by the length of the directions. These really aren't impossible to make.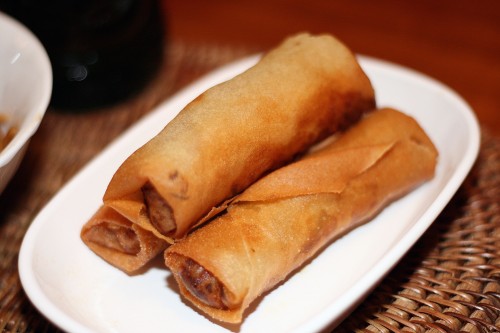 Chicken Spring Rolls
ever so slightly adapted from Steamy Kitchen's Mother's Famous Chinese Egg Rolls
Tips for successful egg rolls: Keep the egg roll wrappers under a damp cloth when you aren't using them. Also make sure you drain the liquid from the filling. Soggy egg rolls are not good! Don't over stuff these bad boys! You only need a tablespoon or so of filling. Make sure you tuck in the sides and roll them tightly. 
50 Spring/Egg Roll Wrappers (about 2 packages), defrosted unopened at room temperature for 45 minutes or in the refrigerator overnight
1 tablespoon cornstarch (or flour) mixed with ¼ cup of cool water
Oil, for frying
FOR THE GROUND PORK (I used thinly sliced chicken breasts)
1 pound ground pork (2-3 boneless, skinless chicken breasts, sliced thinly)
1 tablespoon soy sauce
1 teaspoon cornstarch
1/4 teaspoon sugar
freshly ground black pepper
FOR THE VEGETABLES
2 to 3 cloves garlic, very finely minced
½ head of cabbage (about 11 ounces) (I used Nappa cabbage)
3 carrots, shredded
1 teaspoon grated fresh ginger
10 fresh shiitake mushrooms (or dried black mushrooms soaked overnight), stems discarded (left out the mushrooms since I'm allergic)
3 scallions, sliced 
1 tablespoon cooking oil (canola, vegetable, peanut)
1 tablespoon Chinese rice wine
1 tablespoon soy sauce
1/4 teaspoon sugar
1/2 teaspoon salt
1 teaspoon sesame oil
Freshly ground black pepper
The easiest way to thinly slice the chicken breasts is to run them through your food processor with the slicing blade while they are still semi frozen. If you don't have a food processor do your best with a super sharp knife while they are still semi frozen to slice them thinly.
Combine all your ingredients together for the pork or chicken and let marinate for 10 minutes. While the meat is doing its thing, thinly slice your cabbage with a knife or your food processor.
Heat your wok over high heat, swirl around your cooking oil to coat the pan. Stir fry your meat (in batches if necessary) until no longer pink for 3-4 minutes. Turn heat down to medium-high and either remove the meat or push to the side. Add a tiny bit more cooking oil, add garlic, cabbage, carrots, ginger, mushrooms, and scallions. Stir fry for 1-2 minutes or until the veggies are soft. Add the rice wine, soy sauce, sesame oil, sugar and black pepper. Remember to add in the meat if you took it out. Tossing to coat everything, stir fry for another minute.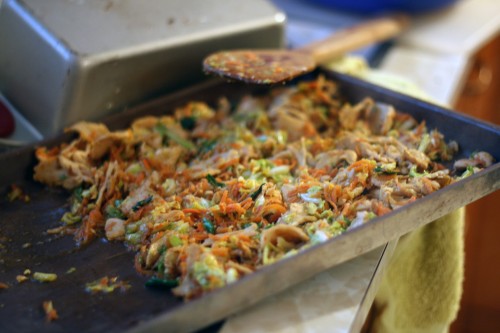 Remove filling to a jelly roll pan, spreading out the filling so it can quickly cool. Elevate one end of the jelly roll pan so the liquid can drain from the filling. Cool for 15 minutes.
Dab off any excess juices or oil from the mixture and get ready to wrap.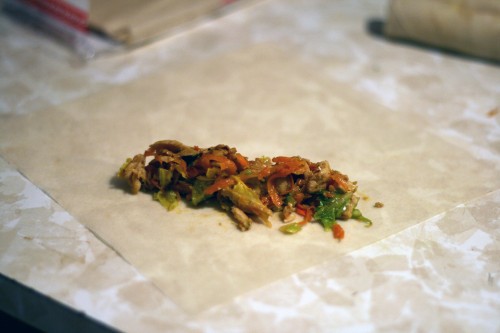 Spread a heaping 1 tablespoon of filling near the bottom corner of the wrapper.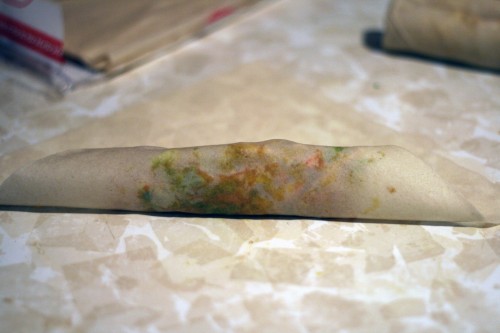 Lift the corner up over the filling and begin to roll. KEEP IT TIGHT!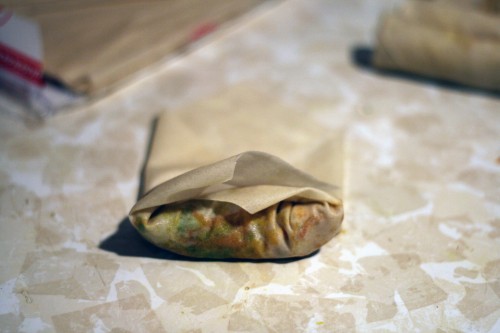 Fold in the sides and keep rolling to the point. Remembering to KEEP IT TIGHT! Once you reach the top, dip your fingers in the cornstarch/water slurry and "glue" the corner down to seal the egg roll.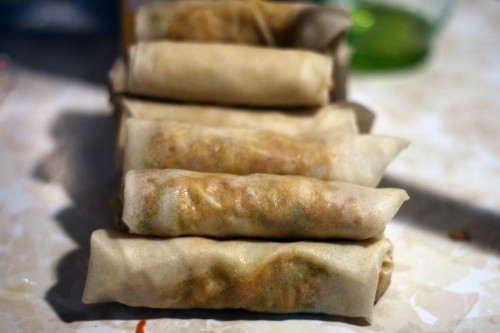 At this point you may place the egg rolls in a single layer on a jelly roll pan and freeze for later. Or you can fry them up right away (my vote!).
To fry, fill your wok with about 2 inches of frying oil. Using a thermometer heat the oil to 350 degrees F. Fry in batches, turning occasionally, frying until golden brown 1 1/2 – 2 minutes. Drain of wire rack and allow to cool slightly before sinking your teeth in.
You may fry from frozen, frying for about 4 minutes, or until golden brown. Make sure you allow the oil to come back up to 350 degree F before adding more egg rolls.
What do you order from your favorite Chinese restaurant? I usually order Lo-Mein, but I pretty much like it all :)Â