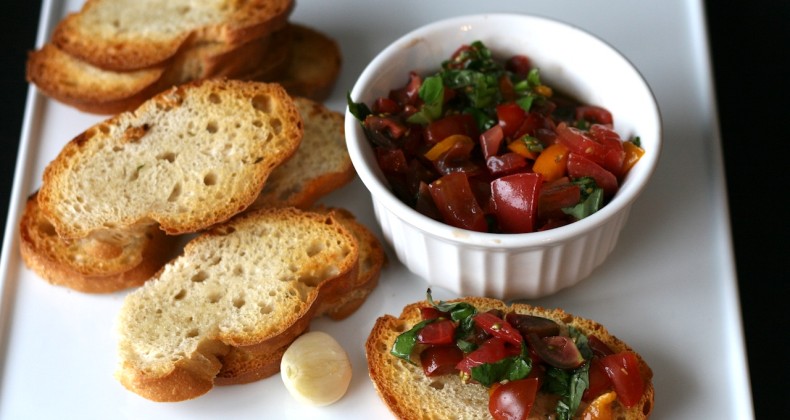 Guess what? I finally did it. I finally painted my master bedroom and ripped up the horrible eggplant purple carpet. Last week was crazy painting, priming, and carpet removing. I will share more about the transformation on Friday so check back!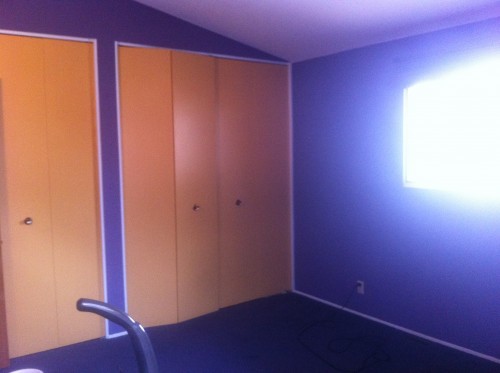 The purple is gone and the carpet is gone and it is so wonderful!
With last week's craziness I did very little cooking of actual food. Ordering take-out because your kitchen is a disaster zone or because your bedroom in now in your living room/dining room kind of takes the joy out of getting take-out. Too much bad food puts me in a major cooking rut which I am slowly digging myself out of.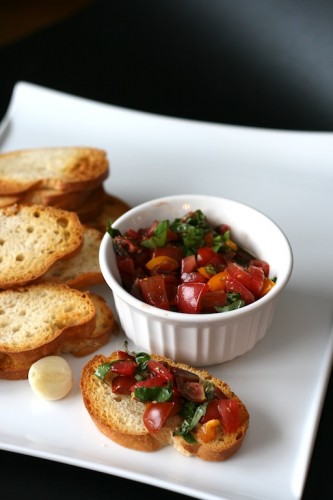 Starting back by making something simple. Sometimes simplicity is just what is needed. Bruschetta [pronounced Brus ketta] the lovely little appetizer from Italy. I could eat this by the truckload. Trader Joe's had the most adorable variety pack of heirloom tomatoes that was destined for bruschetta. I can't wait to harvest my own tomatoes and basil this summer.
In the past I would add minced garlic to my bruschetta and let it mingle and get friendly with the tomatoes and basil. This time I made it the traditional way without garlic. Instead of adding garlic to the chopped tomatoes and basil, you rub a clove of garlic over toasted baguette. WOW! So simple yet so full of garlicky flavor. I highly recommend it.