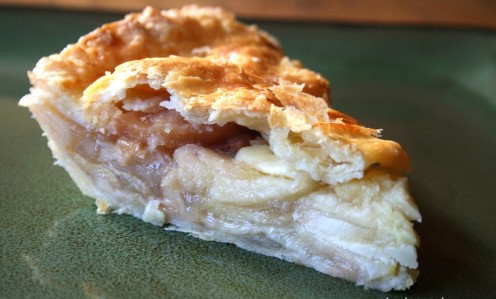 Food is such a wonderful thing to me. It tends to our physical/nutritional needs. We need to eat if we want to live longer than  four to six weeks, which is about how long the average person can live without food. It tends to our emotional needs. After a bad/stressful/depressing/happy/wonderful day we may turn to a specific food or meal that makes us feel better or helps to celebrate. It tends to our memory. Have you ever eaten something that has brought you back in time? Food can trigger memories, reminding you of when, where, and whom you were with when you first ate or drank something. Food definitely does this for me. Food can also help us relate to others. With the popularity of blogging, specifically food blogging, I probably could find a food blogger from every country. It is fun for me to see in my stats that someone from Malaysia, Philippians, Romania, Pakistan, Slovakia, Greece, and the list goes on came to read my recipes (if you are reading this, let me know what you tried). Many people are now wanting to get their food from local growers. This allows us to know who is growing our food, and possibly get involved in the process. See how wonderful food is?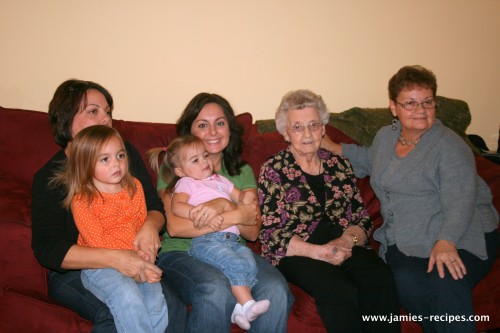 Five Generations: my Mom & Sasha, me & Penelope, Great Grandma Dorothy, and Grandma Bonnie
I recently received a ton of apples that grew on my Great Grandma Dorothy's tree. Over the years I am sure she has made thousands of pies, crisps, crumbles, and gallons of applesauce and apple butter. As I was peeling and coring apples yesterday I thought about my 89 year old great grandma standing in her kitchen. I began to wonder if she was doing the same thing. Maybe she was, I know she has a lot of apples to use up.
This apple pie was a complete experiment. It was inspired by a baked brie I made for our housewarming party. I sauteed apples, butter, brown sugar, cinnamon, and walnut together until the apples were soft. I then poured them over a wheel of brie and baked it until the brie was soft and gooey. It was wonderful, and a perfect appetizer for fall. I thought to myself "hey people put cheddar cheese in or on their apple pie, maybe brie would be a good substitute." It was. I am happy I tried it.
This pie triggers a lot of memories. I think about my adorable Great Grandma Dorothy, about my successful baked brie I served at our housewarming party, and it warms my heart in that cozy kind of way that signals the changing of the seasons.