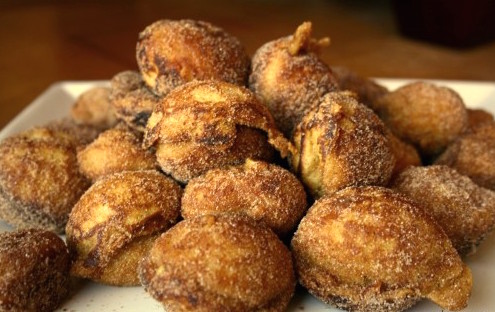 Æbleskiver, have you ever heard of it? Maybe you've seen it spelled more "American" as ableskiver, aebleskiver, or ebleskiver. Æbleskiver is a delightful Danish fluffy pancake-like ball.  These pancake balls can be filled with chopped apples or your favorite jam, and enjoyed sprinkled with a little powdered sugar.
Before you get excited about this Danish breakfast treat, I must let you know that you have to have a special Æbleskiver pan. Æbleskiver pans have several half-circles which you pour in your batter and fry that side first. Then using a skewer or knitting needle you flip them over to fry up the other side. For years I have been wanting a pan, and within 10 months I have been gifted two (thanks Mom & Grandma!). Below are pictures of what my two pans look like.
With Fall in the air and Thanksgiving right around the corner, I have been seeing lots of recipes featuring pumpkin pop up. Nicole from Pinch My Salt made pumpkin cake doughnuts that I could not get out of my mind. I have made yeast doughnuts before, and have always wanted to try my hand at making cake doughnuts. Unfortunately, one needs to plan ahead if one wants cake doughnuts for breakfast. This is where the idea for pumpkin Æbleskivers was born. Æbleskivers don't require all the time that is required for doughnut making, but taste just as wonderful. Instead of dusting them with powdered sugar, I rolled them in a sugar, cinnamon, cloves, and nutmeg mixture. I served the pumpkin Æbleskivers with a dollop up whipped cream. I hope my Danish ancestors would be proud of my adaptation.
WHAT OTHERS ARE COOKING UP:
The Mennonite Girls made Frosted Pumpkin Doughnuts
Food for Thought made traditional Æbleskivers
and of course the inspiration Pinch My Salt's Pumpkin Doughnuts