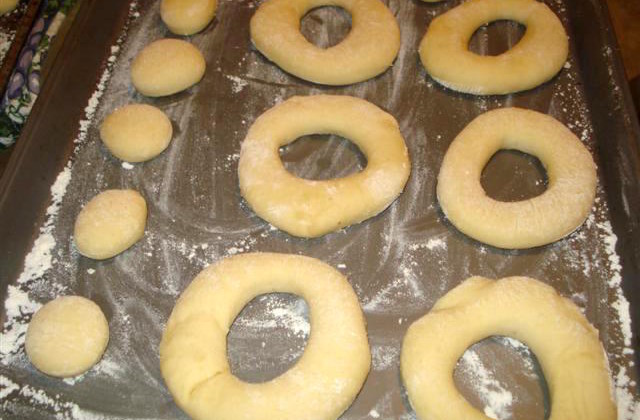 Oh! My! Deliciousness! You have not lived, if you have never made homemade doughnuts. Warm fried dough,absolutely delicious! A couple of weeks ago there was a blogging event entitled Time to Make the Doughnuts! hosted by Tartelette. I learned about this event by reading Phe/MOM/enon blog where she made her doughnuts for this event using Alton Brown's recipe. In my opinion, Alton Brown is a great culinary expert, I love the way he explains the science of cooking.
Last Saturday morning, I made these doughnuts for breakfast. Everyone loved them. I covered our doughnuts with powdered sugar and others with a chocolate glaze. I never knew making your own doughnuts could be so easy. I do not have a lot of prior experience working with doughs (other than cookie dough). This year I have made more batches of various doughs than I ever have before, and am enjoying working with them.
Making the doughnuts was really fun, it is something that you don't get to do everyday. Sasha was right there in the kitchen wanting to help. After I rolled out the dough she was already using a glass to cut them out. It was a fun mother-daughter activity! I must apologize, I do not have any photos of the fresh doughnuts, we ate them all. Take the time and try this recipe, it was delicious.