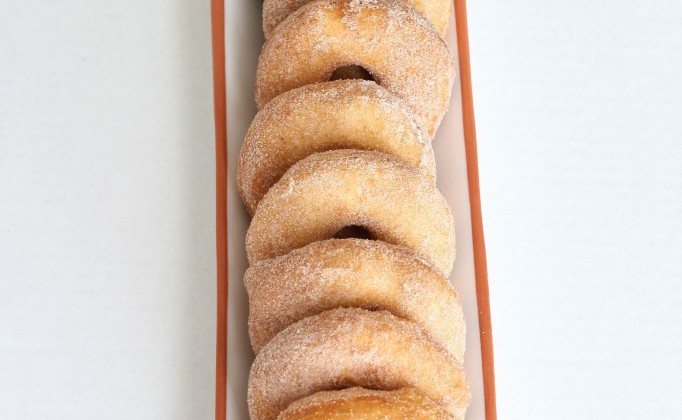 Fauxnuts or Cheaters Doughnuts
I have to ask did you tune in and watch Carrie Underwood in the live version of The Sound of Music? I caught only tail end of it since I was at the girls' school watching 70-80 year old tap dancing grannies. They were entertaining. I found The Sound of Music entertaining as well but man oh man Julie Andrews owned that role so long ago that it is hard to see anyone else try to be Maria. Every other Maria is just an impostor. A faux Maria, if you will.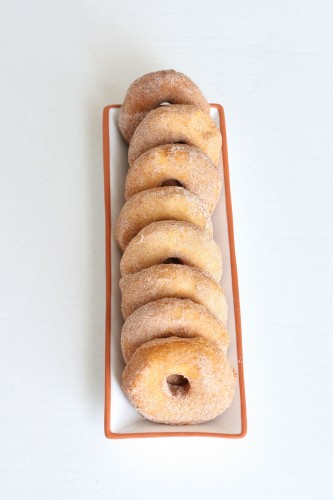 These are fauxnuts, a cheater doughnut. Impostor doughnuts. They will do in a pinch though. Especially if you want homemade doughnuts immediately and don't have the time or patience to wait for dough to rise. The longest amount of time you will have to wait with these is the time it takes for the oil to heat.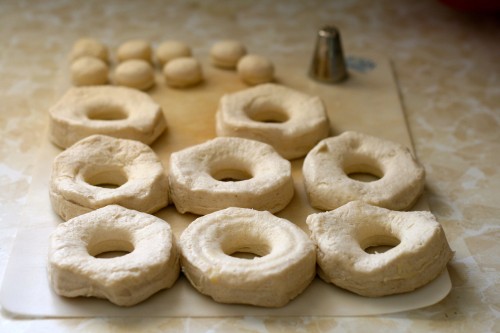 This is the fauxnut dough. Can you guess what it is made from? If you guessed biscuit dough from those tubes in the refrigerated section you'd be correct. I used Pillsbury Grands! Biscuits. They are nice and big which makes for a nice a big doughnut. I used a large icing tip to make the cute little doughnut holes.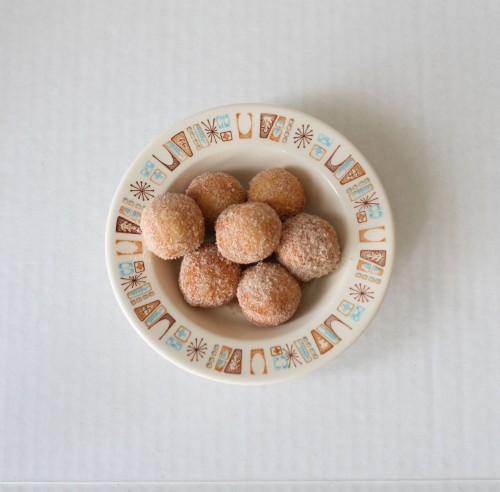 I think doughnut holes might be my favorite. They are so tiny. Kasper loved them too. He is totally on to me now though. I grabbed the fauxnuts and walked over to the window and he said "No picture!" Poor little dude just wanted to eat them and not wait for me to take pictures. I gave him a doughnut hole hoping it would distract him long enough for me to snap some photos. With each click of the camera he would sneak closer and closer. Hot and tasty fauxnuts were too much of a temptation.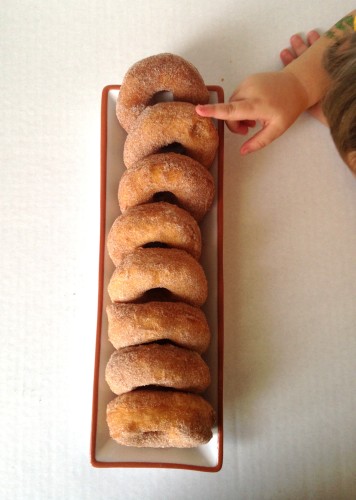 He poked his finger into one. Do you see the indention? He promptly licked the sweet cinnamon sugar mixture off his finger. "Yummy!"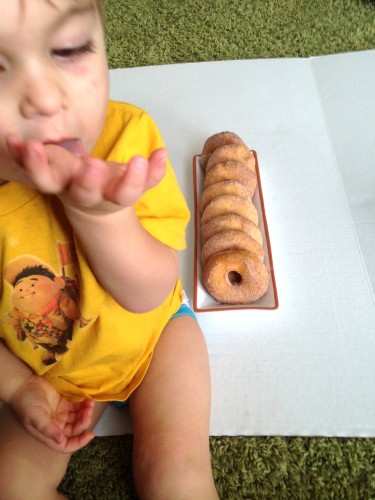 Here is another outtake. He plopped down and started to grab the front one. I got him to stop but then he had to lick that delectable cinnamon sugar mix off his hand. These aren't fancy artisan doughnuts but they are fun to fry up when the doughnut craving strikes. You could easily get the older kiddos involved when making them too. Have an older child separate the biscuits and cut out the doughnut hole. You will need to do the frying part since that oil is incredibly hot. Once the hot doughnuts are removed from the oil let your child shake them up in the cinnamon and sugar mixture. So instead of running out for doughnuts this weekend cook up a batch of these fauxnuts. You can even stay in your pajamas!
If you are looking for a real-deal doughnut recipe try this yeasted doughnut recipe. If you have the time and patience they are so worth it!