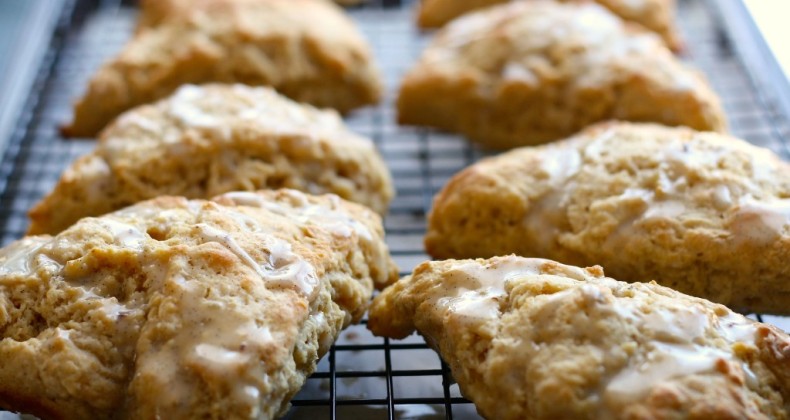 I have declared it BREAKFAST WEEK this week and I hope to share with you a few more of my favorite breakfast recipes. Earlier this week I shared a "recipe" for English Muffin Breakfast Sandwiches which are easily adaptable and can be frozen and reheated for quick breakfasts all week long. Love it.
Another breakfast food I love is scones. And wouldn't you know it you can bake a big batch of scones, freeze them, and quickly warm one up in the microwave for a few seconds for a quick breakfast. Are you sensing a theme?! Hey I am 25 days away from my due date with a kitchen remodel happening in the next 10 days a girl needs some easy and delicious breakfasts that are different than cold cereal and/or yogurt. 
I have a fondness for vanilla and especially for those dark specks of vanilla bean. Growing up Dad would sometimes have Mom pick up a tub of Breyers Vanilla Ice Cream and we knew we were in for a treat. It always tasted almost as good as my Mom's homemade ice cream but the vanilla bean specks made it rememberable. None of the other vanilla ice cream we ate had them and none of the other ice cream tasted as vanillay as that Breyers. Mmmmm.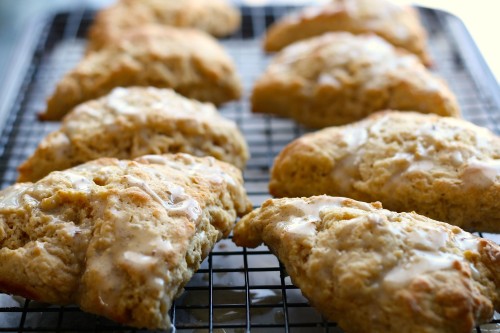 When I first saw these scones on The Baker Chick's site I new I needed to make them. She used vanilla beans in the scones and in the glaze. Be still my heart! If you have never had a scone before I would say scones are almost biscuit-like instead of muffin-like. Dense and tender. I can't wait to have an extra large iced espresso drink with one of these scones this summer.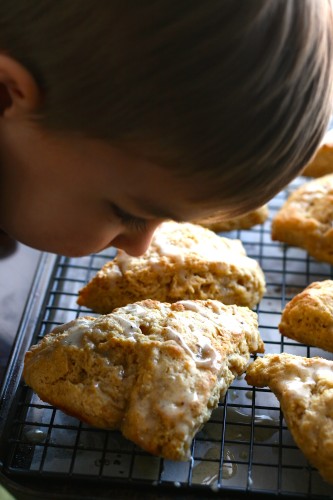 The smell of the vanilla is irresistible. Kasper (who loves to smell things) kept sticking his nose up to the baking sheet saying "they smell so yummy Mommy." He is right. They do smell so yummy. Vanilla lovers will love these.
If you are planning on eating them right away glaze them after they have cooled slightly. However, if you are planning on freezing some of them hold off on glazing until you have reheated them. You can whip up the glaze and store it in a small jelly jar in the fridge until you are ready to use it. Pull out as many scones as you need and let them thaw overnight on the counter. Or you can pull one out in the morning and pop it in the microwave for 20 seconds.