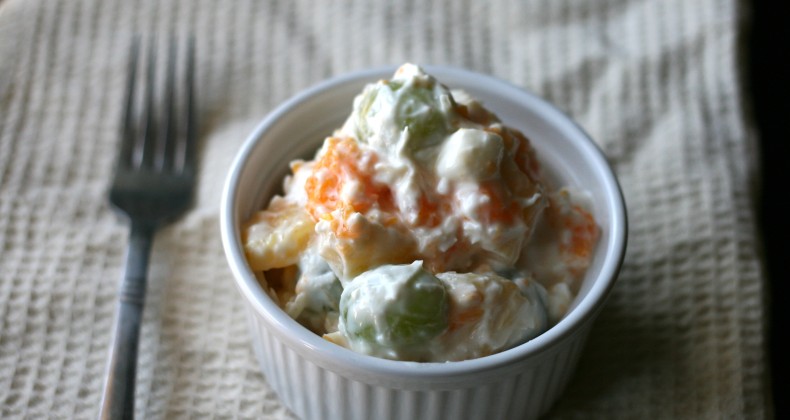 There are some things I have eaten my entire life that I never think to make at home. My Grandma Bonnie makes so many different kinds of salads that she serves with her dinners. A family favorite is layered lettuce salad, it is often requested for family gatherings, but it is a salad I don't think I have ever made (Grandma has a magical way of making everything taste so gosh darn good!). She makes this fruit salad that I love too. It usually has grapes, mandarin oranges, pineapple, coconut, and marshmallows in it. The ingredient that holds it all together might surprise you. SOUR CREAM! Yup you read that right, sour cream in a fruit salad. It is delicious and you would never ever know it was sour cream. I promise.
Since school has started I've been thinking about quick breakfasts. I think this salad could be served as a quick breakfast with one little tweak. Instead of sour cream I used Fage total 0% plain Greek yogurt.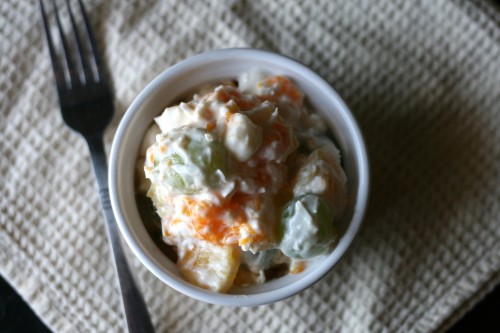 I asked Grandma for the recipe, and she told me I should be able to find it in pretty much any church cookbook. My husband used to work for a cookbook publishing company, so I have a couple church cookbooks to flip through. To my surprise I couldn't find this salad recipe in any of them. After a few searches online I saw a some recipes for 5-cup salad. It sounded familiar. 1 cup of 5 different ingredients. So this is what I did. Try it with sour cream or substitute the Greek yogurt. Either way it is a delicious breakfast or wonderful side dish.
edit: if you check out the comments you can see what else my Grandma adds to the salad