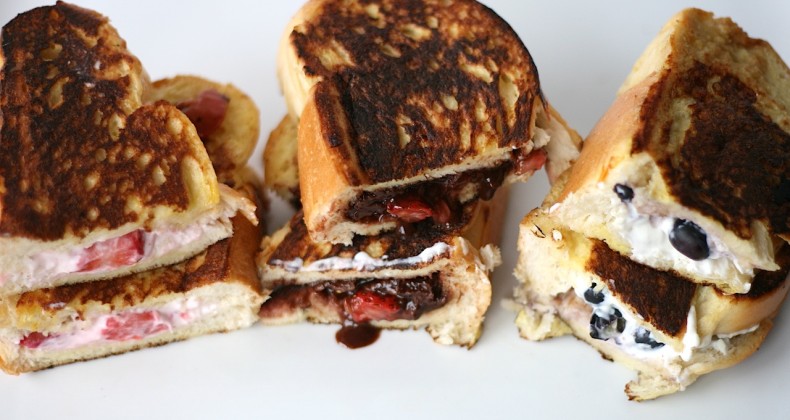 Happy Friday! I am doing the happy dance for so many reasons this morning. My wonderful husband is turning 31 today! It is a long weekend –no school today or Monday. The snow has left Nebraska and we have sunny skies and warm temperatures ahead of us. Yay!
If you're looking for the Stuffed French Toast recipe skip down to the bottom. Awhile back on my  Facebook page I asked "Are there any foods/dishes that you are hesitant to tackle at home?" One of my readers and fellow breakfast lover said stuffed French toast was something she was hesitant about. I gave it my best go and think I was successful in making a stuffed French toast that isn't "cold fillings surrounded by two pieces of toast."
I took the easy way out and bought some challah bread from Whole Foods feel free to make your own though. If you're in Omaha I found out Whole Foods bakes their challah fresh on Thursdays. I made strawberries and cream, Nutella and strawberries, and blueberries and cream. Set your cream cheese out to soften and come to room temperature. Also set out your berries. If you do this it will take the chill off of them and help so your French toast filling isn't cold.