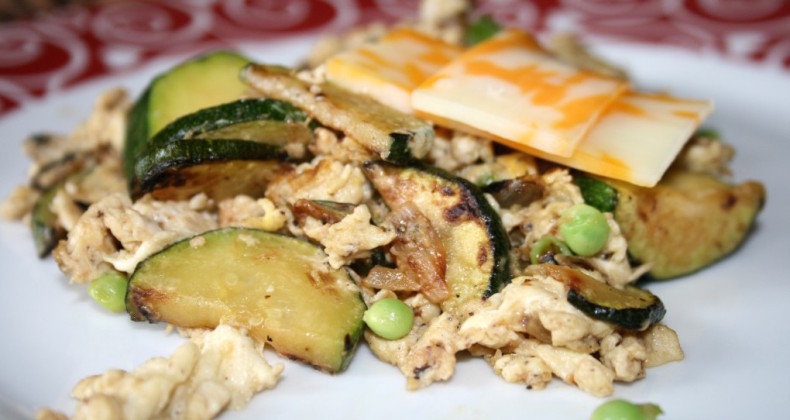 Sugar Snap Pea and Zucchini Scramble
I received sugar snap peas from Brian and Kelly of Black Sheep Farms. They wanted me to develop some recipes using these sweet delicious green peas. These peas are so wonderful raw, I could (and did) pop them in my mouth just like potato chips. When I would open the refrigerator door to find something for dinner or to get a glass of milk for one of my children, I would see those peas sitting so nicely in their bowl, and I would pop them in my mouth –just one or two at a time. After all, I still wanted to use them in a recipe. As a parent you are modeling behavior for your children so I caught my little girls popping entire pea pods into their mouths and enjoying the sweet green crunch. Needless to say this "snacking" dwindled down my supply of peas, after all was said and done I was left with about 20 or so pods.
Mom and Dad sent me home with a few zucchini fresh from the garden the last time I visited. I chopped them up to add to my scrambled eggs, along with some sauteed onions. I thought the sugar snap peas would be a nice addition, and boy was I right. After quickly gobbling up my veggie scrambled eggs, I wished I had more peas so I could enjoy this dish again the next day for breakfast. I love summer time and all the fresh fruits and vegetables we get to enjoy here in the Midwest.