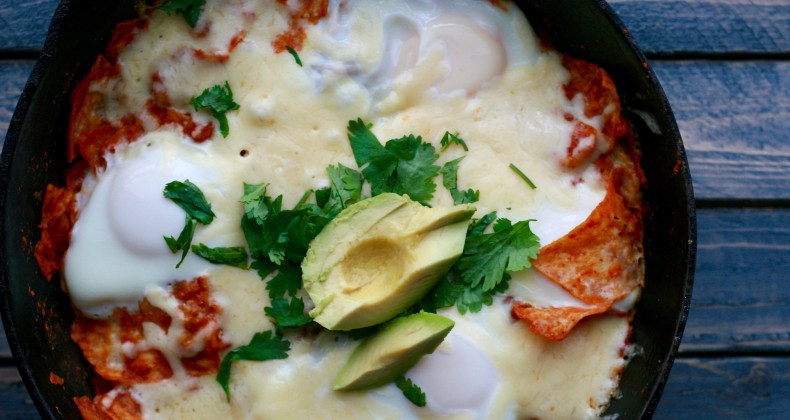 Chila-what?! The beautiful thing about food is you don't have to correctly pronounce it in order to enjoy it. Eggs and toast for breakfast is fine and dandy BUT chilaquiles and eggs are finer and dandier and totally gluten free. Ole!
Recipes utilizing leftovers have my heart.💗 Chilaquiles is made with leftover corn tortillas or in my case leftover tortilla chips. I save the bottom of the bag crumbles in a zip top bag, place it in the freezer, and wait until I have enough to make this dish. Reduce, reuse, and recycle. 😉
When making these I grabbed my favorite cast iron skillet, poured in a little oil, and was letting it warm when my four year old came in asking what was for breakfast. One thing I have learned is four year old boys are always hungry. I told him "chilaquiles" and he gave me a crazy look.
"I promise it will be good. Wanna help make it?" Involving them in the cooking process usually helps ease the apprehension of eating something different.  He was on board. "What can I do mama?"
I told him he could grab me that bag of chips off the island. "Chips for breakfast?!" This dude was sold.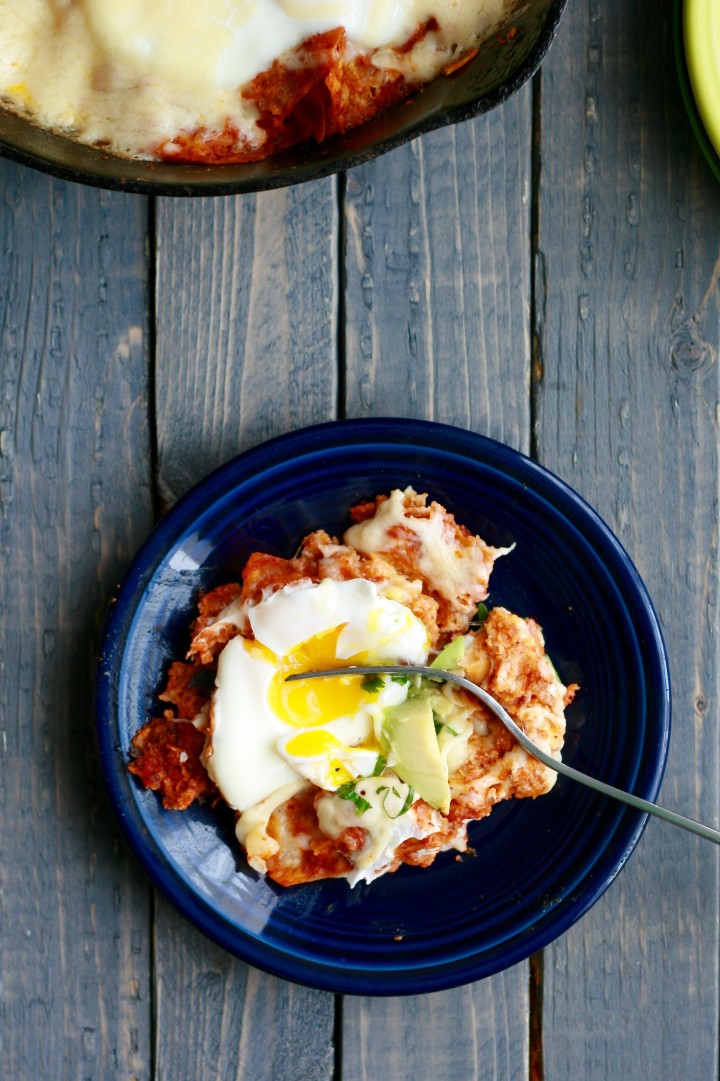 Baked egg stratas are great. They are one of my favorite types of breakfasts. My mother-in-law makes a rocking good ham and cheese egg bake that I can't seem to replicate. But some times we need to add a little spice to the breakfast routine. For my chilaquiles I used canned enchilada sauce. You could easily use salsa or salsa verde if you don't have enchilada sauce handy.
Once you have softened the chips with the sauce you will throw your eggs on top, cover, and cook until the egg whites have become opaque. I knew if I threw a little cheese on top the kiddos would dig in. When making Mexican inspired dishes I love to use Chihuahua cheese it melts perfectly.
A few years back I told my daughters, jokingly, that it was made from a chihuahua dog's milk. 😂 They made a sort of weird face but continued eating it. Now every time we have it I laugh at that memory. Dog's milk cheese. Can you even imagine?
I hope you stuff your face with these chilaquiles this weekend. Weekends were made for brunch and Bloody Mary's.
How do you spice up your breakfast?