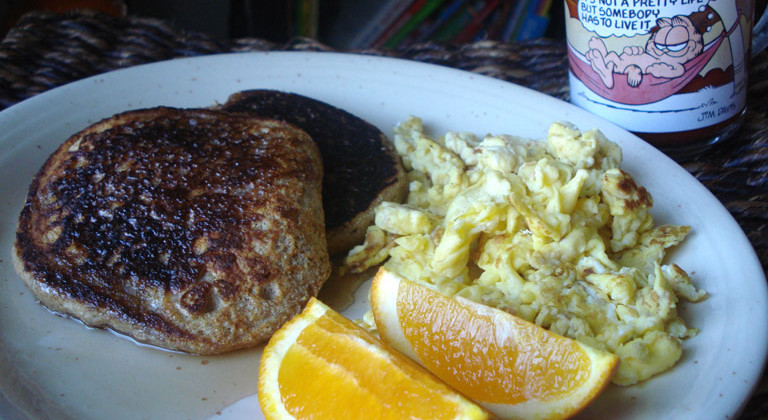 Biggest Loser Blueberry Pancakes
How many times have you heard that breakfast is the most important meal of the day? I've heard this statement countless times, and I know it to be true; but I still found myself skipping breakfast. Not any more. I make sure to eat a healthy breakfast every morning. Starting the day with a healthy meal helps curb my cravings for non nutritious food throughout the day.
My sister is a super fan of NBC's The Biggest Loser. She recently purchased The Biggest Loser Cookbook. Check out Amazon, they have tons of Biggest Loser goods. My sister sent me a recipe for better for you blueberry cakes. I omitted the blueberries because I did not have any on hand, the pancakes were still delicious and very filling. I made my pancakes into two 1/4 c cakes instead of four 1/8 c cakes. Two scrambled eggs, half an orange and a glass of V8 juice made a delicious breakfast with less than 350 calories.
Per serving: 140 calories, 8 g protein, 20g carbohydrates, 3 g fat (less than 1 g saturated fat), 5mg cholesterol, 3 g fiber, 687 mg sodium