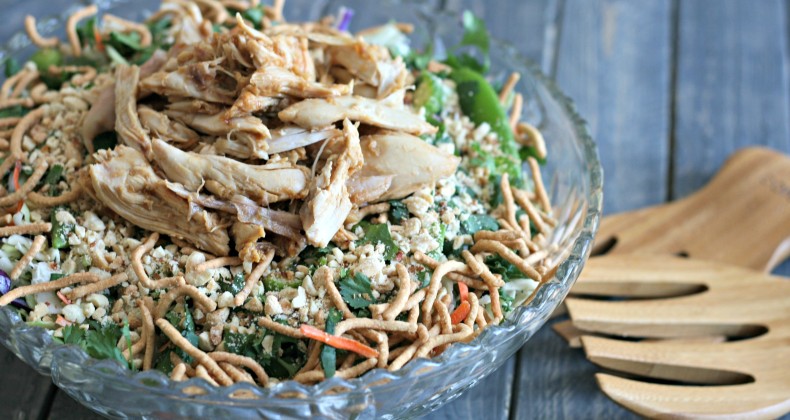 In the summer I am all for taking short cuts in the kitchen. Especially short cuts that don't require you to heat up your entire house. One of my favorite summer short cuts is picking up an already prepared rotisserie chicken from the grocery store.
Rotisserie chicken is so versatile. Use it in salads, sandwiches, soups, tacos, etc. It is a HUGE time saver. After picking the meat off the chicken I lightly tossed it in some teriyaki sauce. Using only a couple tablespoons of teriyaki sauce provides the chicken a nice flavor without overwhelming the entire salad.
This particular chicken salad I quickly whipped up for a mama + baby play date I recently hosted. It was filling without being heavy. Perfect for lunch on a hot day.
I also took another short cut in the produce department and used a pre-bagged salad kit as the base for the salad. My salad kit had lettuce, baby kale, cabbage, and snow peas. I jazzed it up with some cilantro and scallions for my garden.
Since I saved time using a rotisserie chicken and pre-bagged salad I had enough time to whip up a peanut butter dressing. All it took was a couple shakes in a sealed mason jar and wham bam thank you ma'am it was ready.
I hope these short cuts serve you well this summer and you enjoy this salad over and over.