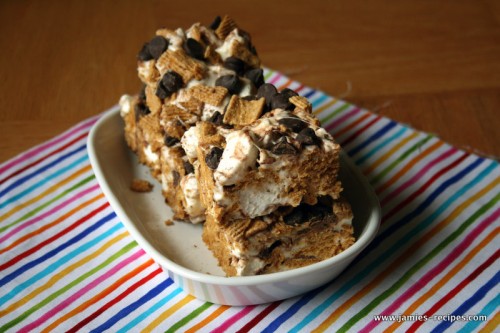 Greetings readers! I'm baaaack and I have a delicious treat just for you.
Here in the United States this weekend is Memorial Day weekend. Memorial Day weekend is traditionally full of parades honoring the men and women that have served in the military, family gatherings, picnics, camping, and since it is the first long weekend since the snow has melted many see it as the kick start for summer. We have two family gatherings this weekend and I am really looking forward to both ( and I am guaranteed to have some delicious food).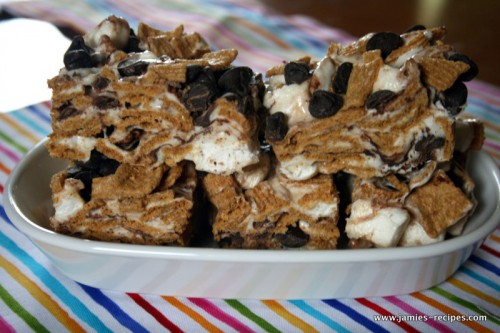 Since this weekend will be a big camping or picnic weekend for many people I thought I would share a tasty no-bake treat. S'mores are a must have camping treat for my daughters. I think eating s'mores are quite possibly their favorite thing about camping. Have you ever had a s'more before? S'mores are fire roasted (or toasted like how I prefer them) marshmallows, Hershey's milk chocolate bars, and graham crackers sandwiched together. Easy peasy, messy, and delicious. You get your best s'more flavor by roasting them over the campfire, however, if your campground is under a burn ban (it happens when it gets really dry in the summer) or you're camping at a camp ground like my parents that doesn't allow any campfires, these bars would be a great alternative. Plus these bars are great for young ones since s'mores can get really really messy.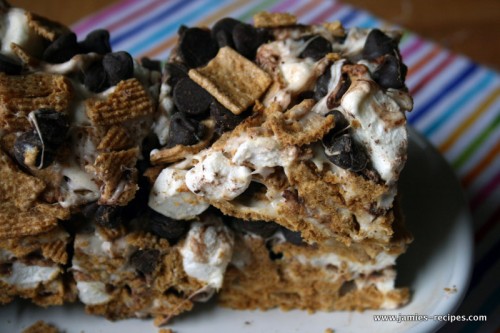 Enjoy the grahamy, marshmallowy, chocolatey treats!