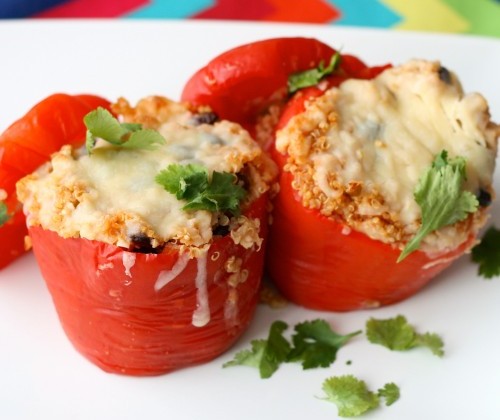 Quinoa Stuffed Peppers –Southwest Style
Sometimes I feel like I need a palate cleanser or a healthy eating restart button. Do you get this way too? I mean there were all those Christmas cookies and candies everywhere in December then starting December 26, Valentine's day candy was flooding every grocery store and drug store aisle, and I may *may* have partaken in the eating of some of this candy over the last few months. My body has said HALT, no more candy, please!
*a quick side note: Why does every. single. US holiday have to have it's own themed candy. For real?! Our country as a whole is suffering from obesity and obesity related heart disease and diabetes. Don't get me wrong I love to eat me some candy every now and then but this is getting ridiculous. I can't remember the last time I bought a candy bar from the checkout stand because we always seem to have holiday themed candy laying around, and 99% of it is stuff that I haven't even purchased. I tossed out the girls' Halloween candy and Christmas candy when I knew they were having a Valentine's day party at school. No need to have a crazy candy backlog around here. 
Sorry about that side note I just needed to vent a second. Back to this healthy eating restart button thing. My body was wanting something that tasted wonderful but wasn't meaty, or greasy, or sugary, or cheesy (can you believe it?), or candy, or fried.
To be honest I really started to think about these stuffed peppers I first shared with you in 2009Â and then naturally I couldn't stop thinking about them.
You do that too, right? Get a certain food on the brain and then can't let it go until you've eaten it? Please tell me I'm not alone.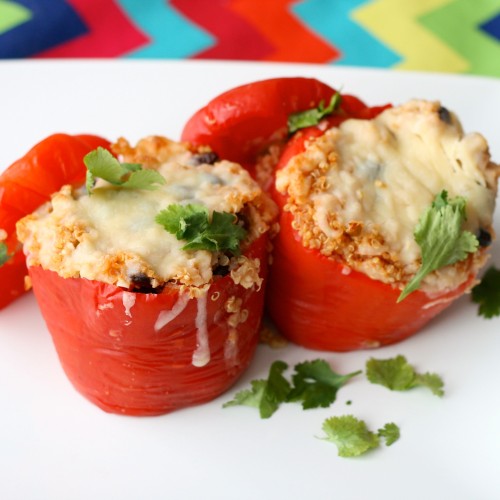 Those peppers I first made in 2009 were stuffed with quinoa, artichoke hearts, baby spinach, and tomatoes they were gluten free and vegetarian which was perfect for our dinner guests that night. A perfect starting point for my "restart button dinner". I wanted something a little snazzier than that version and truth be told I didn't want to make a trip to the grocery store for artichoke hearts.
My family loves Southwest, Tex-Mex, Mexican style food so instead of Italian I went Southwest with these peppers. Black beans, cumin, salsa, Chihuahua cheese, and cilantro. They were so filling and wonderful. The leftovers the next day were just as good.
I cut the usual 60 minute baking time in half by pre-boiling the peppers first. This softened them up a bit and I was able to feed them to my hungry family in about 45 minutes total. Not too shabby for a busy night.
Give your hum-drum dinner menu a restart with these filling gluten free and vegetarian stuffed peppers. They taste wonderful and your body will thank-you.
p.s. You animated .gif makers out there what program do you use? I don't have Photoshop and wanted to make a cute .gif of the peppers. Gif makers I found online really compromised the quality of the images. Thanks for helping a girl out