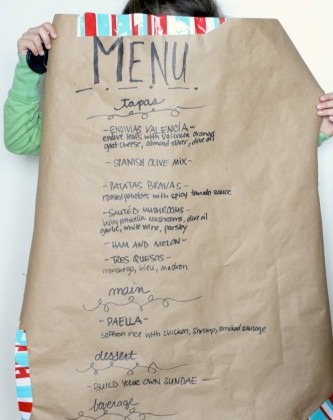 It is your lucky day! This post has SIX different recipes from dishes I served at my paella + tapas party!
Family, friends, food, and fellowship. These things make my heart so happy. I love (love, love, love) hosting dinner parties. When I am cooking and serving food to others I am most in my element. Last week I hosted a paella + tapas party. It was tons of fun and so great seeing a couple friends we haven't seen in awhile.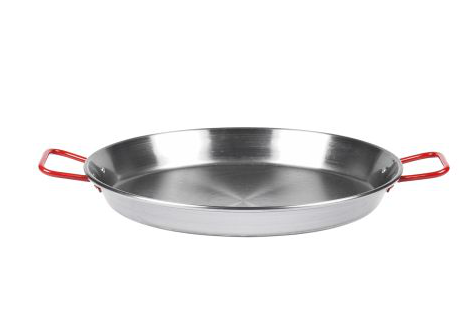 It wasn't until late Wednesday that I decided what the menu would be. Paella sounded fun. I have never made it before and I do not own a paella pan. Sur la Table had paella pans on their website so I headed to the store to check them out, still not sure if I would purchase one. When I got to the store they didn't have a single paella pan available. So my decision was made for me. Instead of traditional paella I would make a deconstructed paella. I (my husband) would grill the meat separately but I would steam the mussels with the rice which I would make in my enameled dutch oven. Sur la table was the only place I found that sold the bomba rice which is traditionally used in paella so I picked up a bag of that there. p.s. that bag of rice is enough to feed an army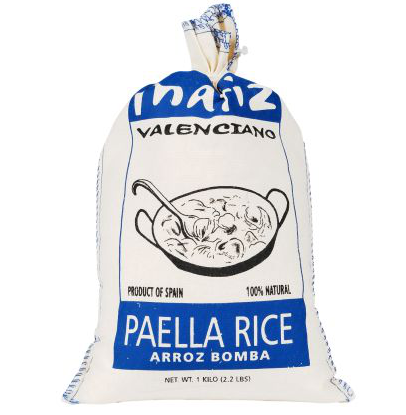 When I went to buy the mussels the fish dude (official name I'm sure) at Whole Foods started bagging up my mussels discovered that they were spawning and didn't sell them to me. So my paella was going to have to be made in a dutch oven without mussels. Even though what I served wasn't traditional paella it was still oh so good. In fact I would host a very similar paella party again.
Saffron is the spice used in the paella rice. If you are looking for saffron locally (looks like you can order online too) I suggest checking out Savory Spice Shop in Rockbrook Village. I met the owner Murat while visiting there; he is so friendly. They sell tons of different spices and extracts. Tell them I sent you 🙂 I also picked up some smoked sweet paprika to add to the rice.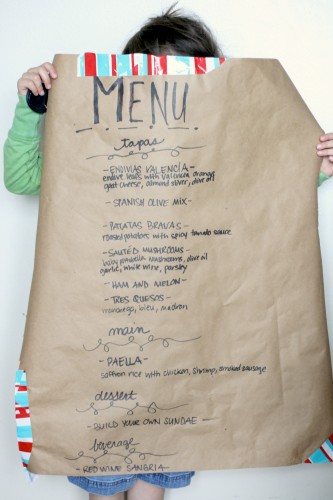 Okay on to the dinner party menu part! Last week on The Kitchn there was a dinner party post and the host wrote out her menu to hang on the wall. I am embarrassed to admit I didn't think of this myself. Usually when I have a dinner party I have to repeat the menu several times. I happened to have some brown craft paper on hand so I sketched up the menu and hung it up for everyone to see.
My menu included:
TAPAS
Endivias Valencia: endive leaves with Valencia orange segments, goat cheese, almond slivers, olive oil
Spanish Olive Mix
Patatas Bravas: roasted potatoes with a spicy tomato sauce
Sautéed Mushrooms: baby portobello mushrooms, olive oil, garlic, white wine, and parsley
Ham and Melon bites
Tres Quesos: Manchego, Bleu, and Mahon
PAELLA
saffron rice with grilled chicken, shrimp, and smoked sausage
DESSERT
build your own sundae
BEVERAGE
red wine sangria
As far as the build your own sundae dessert went. I had our guests bring their favorite sundae toppings. I provided chocolate ice cream and vanilla ice cream.
I wish I had better photos of the dinner. I was too excited to eat to take a long time for photos. In hindsight I should have had the professional photographers who were among my dinner guests snap a few pictures.
The endivias valencias is a copy cat recipe from a local tapas restaurant, Espana. If you are in town go check out Espana.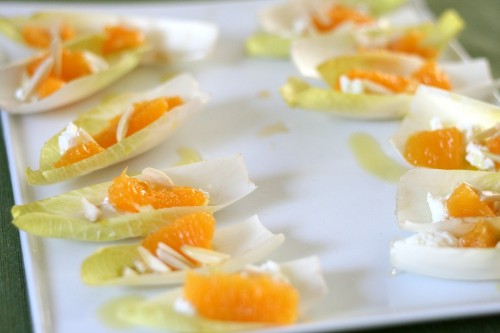 ENDIVIAS VALENCIAS
Ingredients 
Endive
1-2 Valencia oranges, segmented
1/2 cup slivered almonds (they use marcona but I couldn't find them)
soft goat cheese
drizzle of olive oil
Directions
1. Â Cut off the end of the endive and separate the leaves. Rinse and dry.
2. Â Place a couple orange segments in each endive leaf.
3. Â Put a few crumbles of goat cheese on the endive leaves.
4. Â Sprinkle with a few slivered almonds.
5. Â Drizzle olive oil over all of the endive leaves.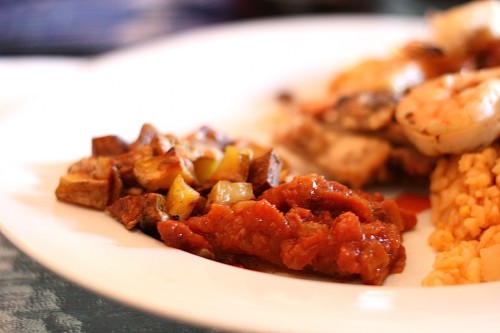 PATATAS BRAVAS
Ingredients
1 pound Yukon gold potatoes, small cubes
olive oil
1/2 teaspoon sweet smoked paprika
1 teaspoon Kosher salt
Directions
1. Preheat oven to 425 degrees F.
2. Toss cubed potatoes with a little olive oil, paprika, and salt.
3. Place potatoes in a single layer on a parchment lined baking sheet.
4. Roast potatoes for 20 minutes. Stir around. Continue baking for 20 minutes.
5. Â If potatoes are still tender bake for 5-10 minutes more.
For the spicy tomato sauce
Ingredients
1 tablespoon olive oil
2 cloves garlic, minced
1/2 medium yellow onion, diced
1/2 teaspoon sweet smoked paprika
1/2 cup white wine
1-15 ounce can of diced tomatoes
1/2-1 tablespoon crushed red pepper flake

Directions
1. In a medium sauce pan over medium heat. Heat the olive oil.
2. Sautee the onion for 5 minutes until soft. Add the garlic, paprika and wine.
3. Stir in the can of diced tomatoes and red pepper flake. Turn heat down to medium low.
4. Cover and cook for 15-20 minutes or until the tomato sauce has thickened.
5. Serve with the roasted potatoes.
Unfortunately I didn't think to take a picture of the mushrooms. I will still include the recipe.
SAUTÉED MUSHROOMS
Ingredients
1 pound baby portobello mushrooms, cleaned
1 tablespoon olive oil
1 tablespoon butter
2 cloves garlic, minced
1/2 cup white wine
parsley, diced
Directions
1. Saute the mushrooms over medium heat in the olive oil and butter for 5 minutes.
2. Add the garlic and continue to saute the mushrooms.
3. Pour in the white wine and allow it to cook down a bit.
4. Garnish with the parsley before serving
TRES QUESOS
I got my cheeses from Whole Foods. They all are from Spain. Pull the cheese out of the fridge about 30 minutes before party time.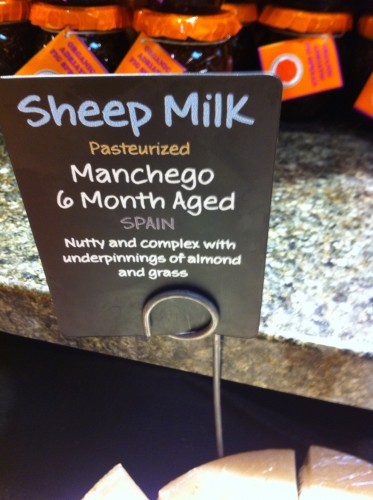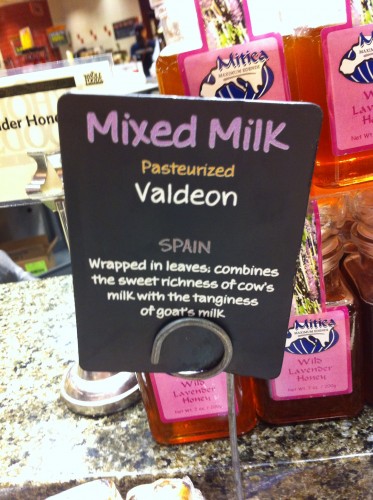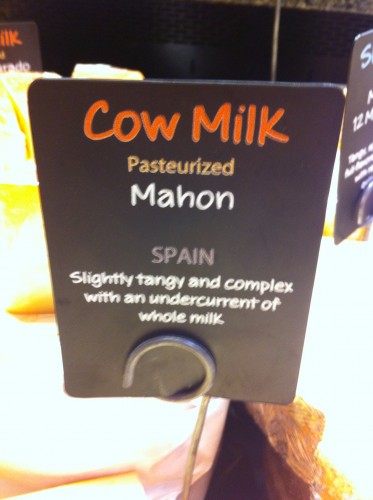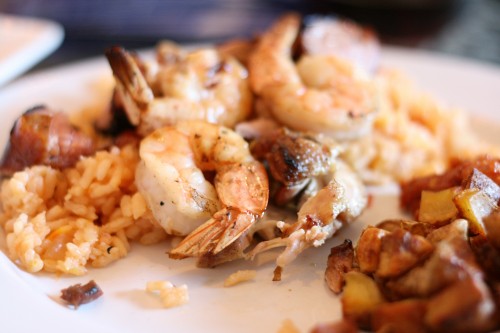 PAELLA
Ingredients
3 tablespoons olive oil
2 medium onions, chopped
4 cloves garlic, minced
2 tomatoes, diced
2 cups bomba rice (or a short grain rice)
4 cups chicken broth
1 cup Clamato juice
6-8 saffron threads
1 teaspoon salt
1 teaspoon sweet smoked paprika
1 pound shrimp
4 boneless skinless chicken thighs
1 pound smoked sausage Kielbasa or Spanish chorizo
lemon wedges for garnish
Directions

1. In a pot add the chicken broth and tomato juice. Bring up to simmer and add saffron. Turn off heat.
2. In a large enameled dutch oven over medium heat sauté the onions in the olive oil. For 5 minutes.
3. Add the garlic and tomatoes sauté for 5 minutes more.
4. Stir in the rice to coat in the sofrito (onions, garlic, and tomato).
5. Slowly add the broth mixture, salt, and paprika to the rice. Stir the rice gently.
6. Cook for 15-20 minutes. Until the broth has been absorbed
7. Remove from heat, cover with lid or foil. Let set 10 minutes before serving.
For the meat:
Season chicken, shrimp, and smoked sausage with salt and pepper. Grill until done. Slice the chicken and sausage into bite size pieces.
When serving scoop rice on plate top with a few pieces of shrimp, chicken, and sausage. Garnish with lemon wedge.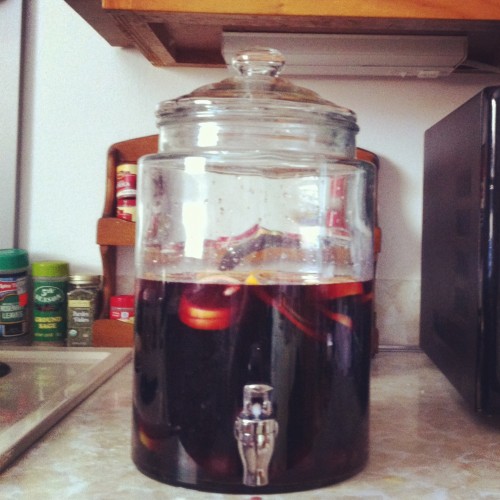 RED WINE SANGRIA
start this the night before or the morning of your dinner party
Ingredients
2 limes, sliced
2 lemons, sliced
2 Valencia oranges, sliced
1 cup red grapes
4 bottles of red wine
1 cup triple sec
Directions
1. Â Place all fruit in the bottom of a large pitcher
2. Cover with wine and triple sec
3. Refrigerate for minimum of 8 hours.
4. Serve in wine glasses with or without ice
You could add chopped apples, pears, or strawberries to your sangria too.
I hope you enjoyed this dinner party post! Hopefully there will be many more excellent dinner parties in my future. 
I just wanted to add this entire menu is gluten free! You could easily adapt it to vegetarian by grilling up some vegetables for your paella. 
I should also add this served 6 adults and three children with very few leftovers.