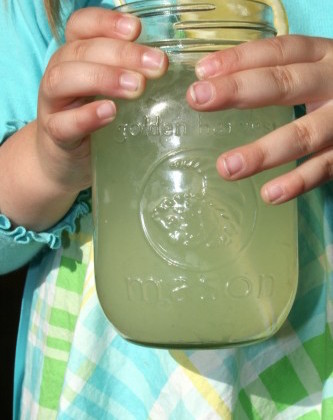 Fresh squeezed lemonade is the real deal. The most refreshing beverage of the summer. As the temperature increases so do my desire for a ice cold refreshing beverage. Squeezing lemons for some fresh lemonade was a wonderful way to get my little ladies involved in the kitchen, they were so excited to try the lemonade they made "all by themselves."
My oldest daughter has told me several times this week that we need to go back to the store to get more lemons so we can make lemonade again. If lemon and lime trees could survive in Nebraska I would be in lemonade and margarita heaven.
This is a perfect recipe to get your children involved in the kitchen. Don't worry if any seeds get into the measuring cup you can always strain them out. While your child/children are busy squeezing lemons you can make the simple syrup. We will be making this lemonade countless times this summer.
Has anyone tried making fresh squeezed lemonade using agave syrup instead of sugar? If so please let me know.