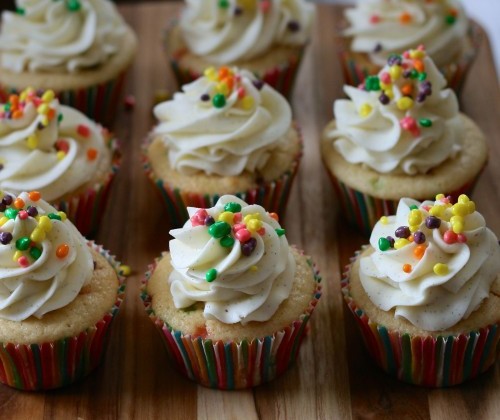 Tomorrow we welcome Spring (with open arms!). I am so happy to say goodbye to winter. To celebrate the changing of the seasons I wanted something sunshiny and cheery.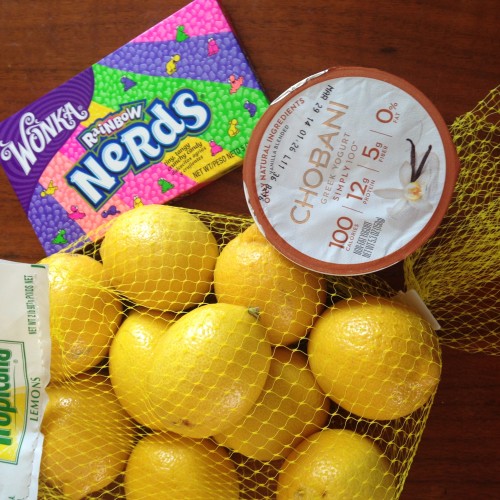 These were my inspiration ingredients. Truth be told I have had a mad lemon craving for awhile now and decided lemon cupcakes would help satisfy that craving. Boy was I right. If you are looking for a truly tart lemony lemon cupcake look no further. I did not mess around when making these. There is an entire cup of fresh squeezed lemon juice in the batter. Please oh please do not use that lemon concentrate stuff in the green bottle or the plastic lemon you see at the store. Use the real stuff for these cupcakes. They are special.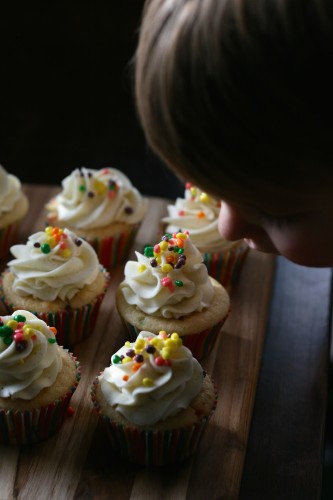 Kasper has recently taking a liking to his sense of smell. He is going to love it when our lilacs bloom! I was working in the kitchen while he was quietly playing with his new favorite book (Pull-Back Busy Car Book) and after zesting and juicing the third lemon Kasper came into the kitchen and asking "what that smell is, mommy?". I told him it was a lemon and he said he liked it. As soon as the cupcakes were out of the oven he wanted to smell them, he liked that smell too. And as you can see after I frosted them he had to smell the frosting. In case you're wondering he liked that smell too. "Smells yummy, mommy."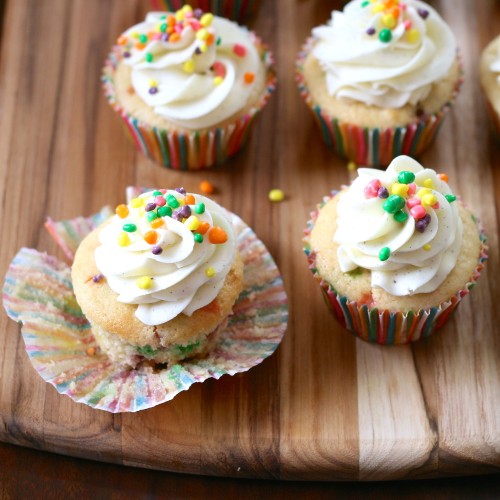 I took a sort of Funfetti turn with these lemon cupcakes and tossed in some Nerds candies. Those sweet and tangy little candies worked so well with the tart lemon. However I will say that some of them did settle to the bottom which caused the bottom of the cupcakes to be a wee bit sticky. Not a total deal breaker in my book but if sticky bottoms are something you want to avoid just leave the Nerds out.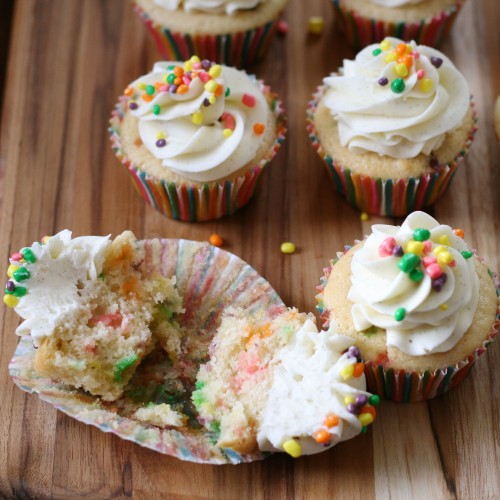 The insides of the cupcakes are so beautiful with the colorful Nerds. I added about 1/2 cup to my batter but you could easily substitute an equal amount of sprinkles for the same look. The frosting is from Zainab the Blahnik Baker. She posted cupcakes earlier this week and included her recipe for Whipped Vanilla Bean Frosting. It is so good and it smells heavenly. If I had any frosting leftover I probably would have eaten it by the spoonful. P.S. Zainab is doing a giveaway for some cheery silicone baking cups. Click over to her site to enter now through Monday, March 24! 
I hope where ever you are that tomorrow is a beautiful Spring day for you! If not just bake up some lemon cupcakes and pretend it is. Winter can't last forever. 🙂