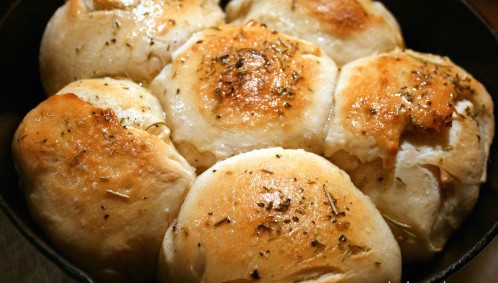 Garlic Herb One Hour Dinner Rolls
Dinner rolls are not high on my priority list when I am cooking dinner, truth be told they are more likely an after thought. For example, after I set the food on the table I think to myself, hmm some dinner rolls or fresh bread would really round out this meal. Unfortunately if you do not have any of those "heat to serve" dinner rolls sitting around there is no way to enjoy them with your dinner that night. Like most yeast breads dinner rolls need (I really had to resist typing KNEAD –I love a good pun!) to be a forethought since you have to knead, then let double in size, then shape, then let double in size again, and finally you are able to bake them, all which take plenty of time.
Luckily for me and for you since I am sharing it, I found a recipe which allows you to have piping hot dinner rolls on your dinner table in about one hour from start to finish. This recipe is awesome because I just start it a little bit before I would normally start prepping for dinner. For me it was not a huge change in my cooking routine.
I found this recipe months ago from Holly at Phe/MOM/enon (congratulations on the new babe). She adapted a recipe from My Kitchen Cafe and posted about it in November and I marked it as a recipe that I wanted to try. This is a daily habit of mine. I sit down and read my Google Reader and star all the recipes I want to try some day. Currently I have hundreds of "want to try" recipes marked. I have maybe tried a handful (a small handful) of these recipes. It is such a shame. To fix this problem I have decided that a couple times a month I am actually going to try some of these recipes and share them with you. After all, I would like it if people would try my recipes instead of saying "that sounds good, I will have to try that some day" and some day never comes.
That being said, a recipe from the famous Ree at The Pioneer Woman was also starred. She had made some delicious Buttered Rosemary Rolls using frozen bread dough. Well Ree recently posted about these Rosemary Rolls again which jogged my memory and I knew I had to make them soon. First I tried Holly's recipe a couple weeks ago only I substituted half of the AP flour for whole wheat flour. My family loved the dinner rolls, and I was happy how quickly they came together. They were so light and fluffy. Fast forward to this week, when we were going to have spaghetti for dinner and didn't have any frozen garlic bread around. The solution was to combine Holly's recipe with Ree's recipe and throw in my own touch. My family really enjoyed the soft, subtly garlic herb dinner rolls with our spaghetti. The garlic flavor didn't come through as much as I hoped it would, next time I make these I will try doubling the garlic amount or adding roasted garlic instead of minced.