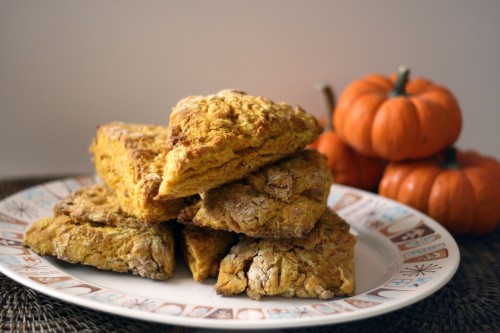 Curried Pumpkin and Candied Ginger Scones
This seems to be the time of year where everyone is talking pumpkin. Starbucks and other coffee shops start pouring pumpkin spice lattes and pumpkin pie, pumpkin bars (low fat recipe here), pumpkin blizzards are everywhere. I thought I would jump on the pumpkin bandwagon.
Last winter I found this scone recipe on the King Arthur Flour website. I was searching for a way to use some candied ginger I picked up at the store. By the way, if you're suffering from nausea candied ginger is a great thing to snack on to help ease that queasy feeling. The candied ginger is a slightly sweet and spicy addition to these pumpkiny scones. My favorite part is when a piece of the ginger is on the outside of the scone and it almost becomes caramelized. Mmmm. I doubled the curry powder and added some dried ground ginger to the recipe. I like the spice. The original recipe is very mild so don't be afraid of the word "curried".
These are perfect with your morning cup of coffee or your afternoon cup of tea. Trust me I've tried them both ways! If you're really in the pumpkin mood serve these for Thanksgiving breakfast.