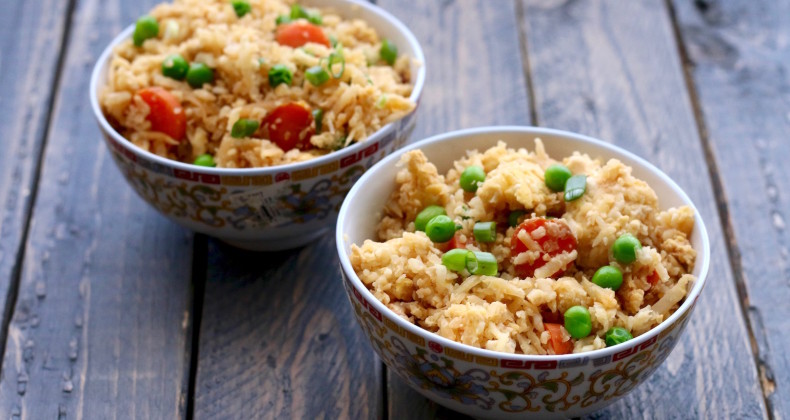 When you can whip something up as quickly as you can this dish you won't need to call for take-out. Cauliflower Fried Rice is quick, easy, grain free, and gluten-free. All the flavor of your favorite fried rice is here. The only things missing are the carbs, fat, grains, and gluten. And I promise you won't actually miss them. 😉
For the last year I have been on and off the Whole30 bandwagon. Maybe you have too. I think Instagram has been my favorite source for Whole30 food inspiration. Searching #whole30 brings up all kinds of beautiful healthy foods that inspire me to get in the kitchen and start cooking. A while back a friend of mine posted a photo of her cauliflower fried rice and I thought to myself, "I need to try that!"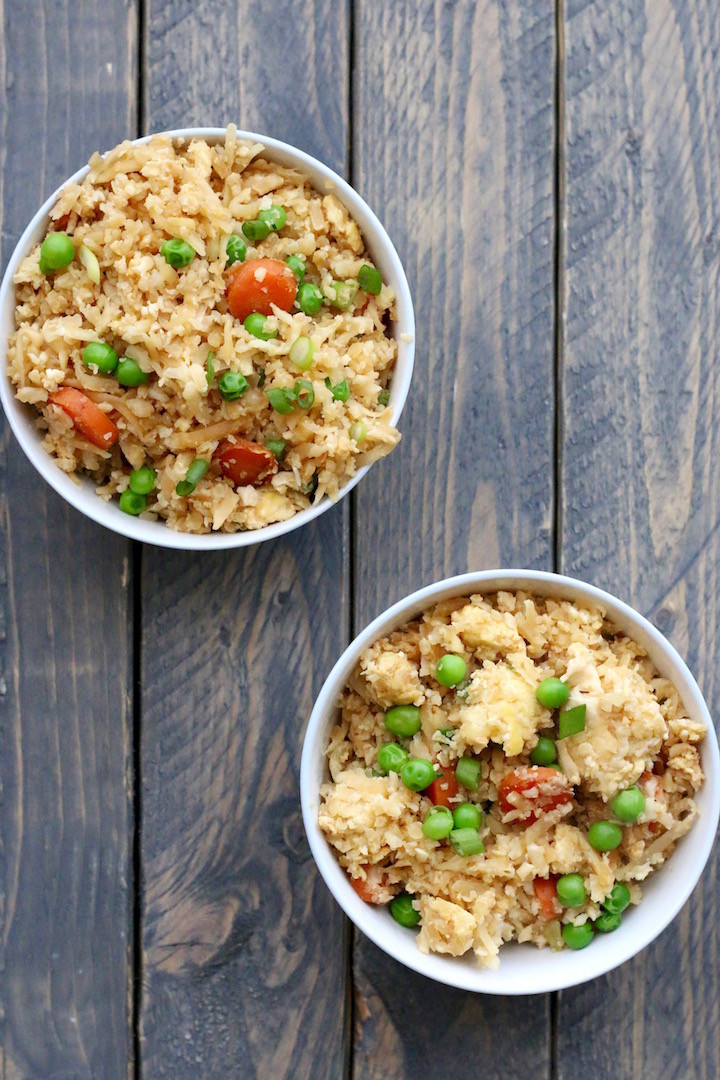 So I did. Several times. I love it and the best part is my kiddos love it. They are getting a giant serving of vegetables without even knowing it. Mama win right there! I stuck with the traditional carrots and peas as the other veggies in this fried rice, but if you have a crisper drawer full of sad looking vegetables this fried rice would be the perfect dish to use them up in. While my dish is meat-free you could easily chop up leftover chicken, ham, turkey, shrimp, whatever and add to it.
Using my food processor I shredded the entire head of cauliflower in a matter of minutes. A quick toss in the wok over high heat means dinner is served in less than 15 minutes.
Eating Cauliflower Fried Rice as leftovers are the bee's knees. You know how traditional fried rice gets hard and crunchy when it is refrigerated? Not cauliflower fried rice. It stays soft. There have been several days I have eaten it cold for lunch. It is the best! If you pack your lunch to bring to work/school this Cauliflower Fried Rice is going to become your new BFF. No microwave needed!
What is your favorite cauliflower recipe? 
I recommend these items to help make this recipe easier: