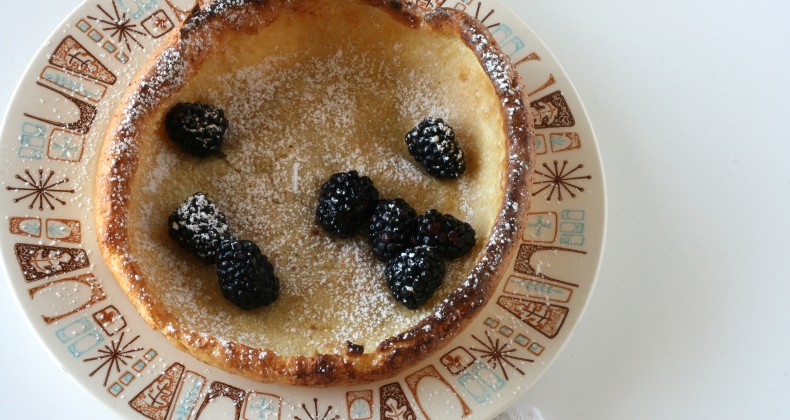 A Pantry & A Puffy Pancake
How was your weekend? I hope it was a wonderful one! We had plans to see a long time friend but unfortunately those plans fell through. Alex and Penelope were both under the weather so it was nice to relax a bit.
I have written about my kitchen a bit before in the past. It has so much potential to be great. We want to do a little remodeling in the near future to make it great. In the mean time however, I had to do something to make it more tolerable.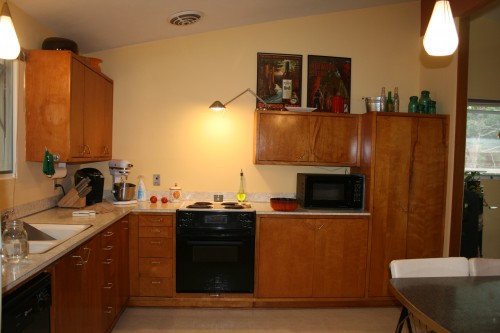 The large cabinet on the right is my make shift pantry. It's original purpose was a broom closet that the former owner had put in a couple small shelves. I have been using it as is for the last three years as a pantry. Last week I finally had it with the inadequate pantry and knew I NEEDED to do something ASAP to make it more usable until we finally remodel. Armed with my tape measure I started taking down measurements and formed a plan for full size shelves. A quick trip to Menards and $22 later I was ready to get busy.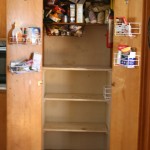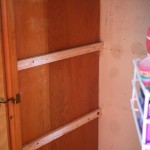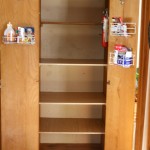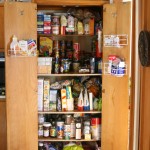 Before we only had shelves that were 10 inches deep. NOT DEEP ENOUGH! I wanted full size shelves (23 inches deep). I broke up and removed the old shelves. Cut some 1″x2″ to size and screwed them in to hold the shelves. I used 1/2″x4'x4′ laminated particle board for my shelves. I had to cut everything with a handsaw since we don't have an electrical saw of any kind. My husband helped cut the 4'x4′ piece of particle board into 23'x28′ shelves. I popped the shelves in and filled the pantry up. I LOVE IT! I should have done it three years ago. Even my daughters have commented that it is so nice because we can actually see what is in the pantry now. So true. $22 and 50 minutes of time and I have a pantry that makes me smile every time I open up the cupboard doors. Worth every dollar and every minute of effort.
On to the puffy pancakes….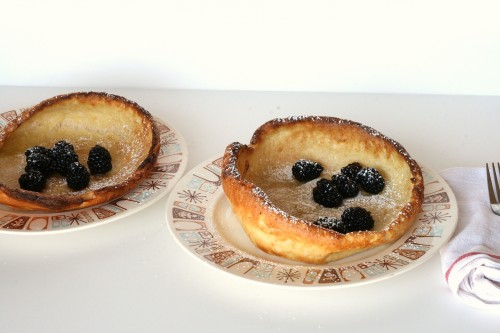 Pancakes are delicious but sometimes they can be a bit heavy. These pancakes aren't heavy at all. It is a fun twist on a breakfast favorite. This recipe makes two large pancakes. Fill it up with your favorite ingredients. These two were for my daughters so I tossed in some fresh blackberries and a light dusting of powdered sugar.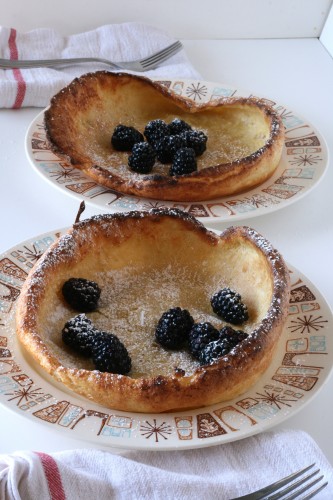 I had blackberries and real maple syrup. In hindsight I wish I would have filled up the puffy pancake bowl with sliced strawberries and drizzled over some melted Nutella. Mmmmmmmmm! If you are in to mixing your breakfast foods together then an over easy egg, breakfast sausage, and maple syrup placed together in the pancake bowl would be dynamite. Your "fillings" options are endless!